Don asks a question about how to handle a high-maintenance client, and Jackie and Scott chime in with their opinions. Cindy asks about the special offer a vendor made yesterday, and Shannon clarifies.
Sandi's teaching a session on pricing, Michelle is networking with partic

ipants, and other participants and exhibitors are intermingling in the Exhibit Hall.  Sounds like a typical accounting conference, right? There's just one difference: many participants are at home (some in pajamas!) in front of their favorite computer. They didn't spend a dime on airfare, hotels, or taxis. They're watching, often from multiple monitors and/or PCs, the current session, chat room conversations, Exhibit Hall displays, and much more in this fully virtual event.
A few accountants comment they like this format better because their shyness doesn't work against them as in a regular brick-and-mortar conference. They get to be the fly on the wall, listening in to every conversation, and absorbing the knowledge of the participants, speakers, and vendors.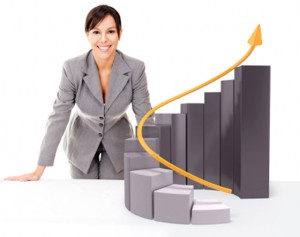 The all-virtual, cloud-based Ultimate Accounting vCon (which is short for virtual conference) is the brainchild of Michelle Long and Sandi Smith Leyva, two popular accounting industry speakers.
The Second Annual Ultimate Accounting vCon will be held on May 16-17, 2013 in the comfort of participants' own offices. Topics are focused on accounting practice growth, and sessions are filled with hands-on demos, case studies, and checklists. Past sponsors included Intuit, Xero, UniData, Bill.com and others.
The price for participants is $199, with discounts for early bird registration. Participants can earn up to 12 hours of CPE. For more information, visit the website at http://www.accountingvcon.com.
Rave Reviews from the First Annual Ultimate Accounting vCon
"Thank you both for a great conference. I have already registered for 2013. The time/value ROI is first rate. I particularly like the downloads including the transcripts."–Caralee L. Valdez, Principal, Sun Dog Consulting, LLC
---
"Thank you very much for both the vCon and the Bonuses! You managed to present a years worth of education in a matter of days! Excellent presentations were given by all." –Stephen Maier
---
"The vCon was the best webinar I have ever experienced, exceptional speakers and interactive presentations. There were great tips and ideas that can be used to grow our businesses. Great use of chat to incorporate participants questions on – the – fly." – Norton West, Norton West and Co
---
"There was such a wealth of new information. It has generated many new ideas and possibly changed my vision of my practice," -Michele Etzel, Bayside Accounting Services
---
"This conference exceeded my expectations. The attendees were very engaged. Sandi and Michelle, you did a great job putting this together and made it very relevant. The interaction and seminars available prior to the conference were also very helpful.
It was a very organized online experience. Thank you for making the sessions available for download to review again." -Cheryl Willett, Accounting for Profitability, LLC
---
"The Ultimate Accounting vCon helped me to understand the newest technologies out there." -Vicki Allely, Bookkeeping Services
---
"A lot of good information was packed into a relatively short amount of time. It was well organized and easy to attend at home." -Jodi Mecham, Mecham Bookkeeping
---
"The best thing about vCon was not having to travel yet having access to peers, vendors and a wealth of information! I'm just really impressed with Sandi & Michelle – keep doing what you are doing!" -Edwin R. Monteiro, CPA/CITP Optimum Tax and Financial Group
---
"Such great information. No fluff. I love that we still have some time to go review the materials. Everyone was so willing to help each other." -DaOsha Pack, Covenant Accounting Solutions, LLC
---
"Michelle and Sandy, I am so impressed with your knowledge and caring about the attendees, and your desire to help us grow our businesses. It shows throughout the sessions." -Cherri Rapp , Cherri Rapp & Associates
Read more testimonials:  http://accountingvcon.com/testimonials/
Register now for early bird pricing:  http://accountingvcon.com/register/