Successful QuickBooks Consulting will help you start earning money in your OWN business with the wealth of information it provides. It includes:
Steps to start your own business (and estimated start up costs)
How to define your services and set billing rates (includes average billing rates)
How to improve your knowledge and experience
How to obtain new clients and effective marketing ideas
Details about websites, client engagements, market opportunities, growing the business, and MUCH more.
The book includes results of a national survey of QuickBooks ProAdvisors about their annual income, use of engagement letters, over 300 comments and advice on things they wish they had known sooner or done differently, their KEYS to SUCCESS and more!
Bookkeepers, accountants, tax preparers, and consultants will all find beneficial information in the book. With your own business, you can decide what hours you want to work, services to provide, and work from home if you choose! This book will help you SUCCEED!"
Review on Amazon by Andrea Young-Miles, Certified QuickBooks ProAdvisor
I have read quite a few books regarding bookkeeping services, consulting services and tax services but this is the first book I have read regarding QuickBooks consulting services – which is the main service area of my business. I think this is an excellent reference guide for anyone that is starting or growing a QuickBooks consulting business.
I found Michelle's information on marketing, performing engagements, establishing billing rates and growing the business very helpful. Prior to reading this book I would constantly read the QuickBooks on-line forums especially on practice development to gain insight from other QuickBooks consultants. I have even tried contacting consultants that have been in business for quite some time to see if they would offer some advice, tips or insight for a "newbie". Unfortunately I have not had much luck until now. Michelle's chapters entitled:
* Common Mistakes Consultants Make
* Advice From Other ProAdvisors
* What Consultants Wish They Would Have Known Sooner
* Keys to Success
contain the information that I have been looking for! I wish I would have known about her book when I first started my practice these four chapters alone would have definitely saved me a lot of time and money. If you have ever wondered "can QuickBooks consulting be an ideal business for me", "I'm a Pro-Advisor what's my next step", "what works and what doesn't work when growing a QuickBooks consulting business", "can I make any money at this", "how can I find more QuickBooks clients" – BUY THIS BOOK!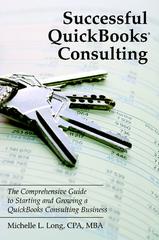 Successful QuickBooks Consulting The Comprehensive Guide to Starting and Growing a QuickBooks Consulting Business