Have you heard about Xero from clients or others?  Do you wonder what the buzz is all about?  Do you want to learn how Xero can help you transform and grow your accounting practice?  See how you can code a year's worth of transactions in a few hours instead of days.  Please join me for an introduction to Xero and demonstration with Jamie Sutherland, US President of Operations.
Xero is beautifully designed, easy to use online accounting software that changes the way you work with small and medium sized businesses.   Xero includes unique features such as automated daily bank feeds, invoicing, expense claims, and fixed assets.  Xero enables accounting professionals to work collaboratively with clients.  It allows you to focus o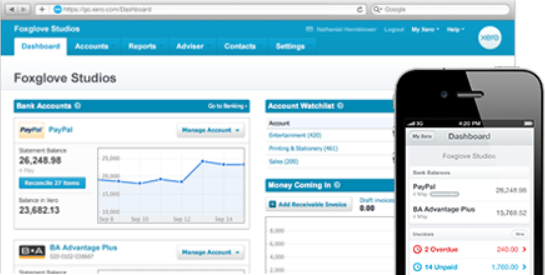 n data management and analysis instead of data entry.
Join me with Jamie Sutherland to learn more and see a demonstration of Xero.  Learn about the free Partner program, Certification, WorkflowMax and more.  Specific things accountants will love include:
How to reduce data entry by connecting Xero directly to client bank and credit card accounts
How fast cash coding in Xero lets you get a year's worth of transactions coded in minutes
How the Single Ledger creates a new way of working where you never touch a transaction more than once
How to create professional GAAP compliant financial statements and other reports quickly with footnotes or comments for clients
When:  Wednesday, January 16, 12:00 – 1:00 CT  (If you can't attend, register anyway to receive a follow up email with a link to the recording).
Register:  https://www3.gotomeeting.com/register/166039974
Webinar with Xero and Bill.Com
Move your business processes to the cloud so you can save time, delight customers, and reduce costs. In this FREE webinar, you will hear cloud computing leaders discuss:
Evolution of cloud computing
Why businesses should adopt the cloud today
 Intro to cloud accounting (Xero) and payments (Bill.com)
Integration between Xero and Bill.com
Date: Friday, January 18th @ 2 PM EST
Registration: http://cashflow.bill.com/TimeIsNow011813.html
Title: Born in the Cloud: Time is Now (Xero and Bill.com)
Speakers:
Jamie Sutherland (Xero, US President of Operations)
Rene Lacerte (Bill.com, Founder and CEO)
Steve Chaney (Chaney & Associates, Owner and CPA)
Xero Certification and Other Training
If you are interested in becoming a Certified Advisor, there are live training seminars soon or online training available.  If you want to join me for the Dallas certification training on January 24th, I would love to see you there!  You can learn more and register here:  http://events.xero.com/us/events-catalogue/28-partner-training