It is exciting to see so many CPAs, accountants, bookkeepers, QuickBooks ProAdvisors, consultants and others who have already registered to attend the Ultimate Accounting vCon next week (May 16 and 17).  Sandi Smith Leyva and I (Michelle Long) have been finalizing the presentations and materials and all I can say is WOW!  We have soooooo much great information, resources and ideas to share with you that will help you grow your business and serve your clients better that it is amazing!  It's not too late to register to join us and you will be glad you did!  All the sessions are recorded so you can listen to them later as needed.  Hundreds of your peers have already registered — don't get left behind! 

Here's what a few people said about the our first Accounting vCon (November 2012):
"The best thing about vCon was not having to travel yet having access to peers, vendors and a wealth of information! I'm just really impressed with Sandi & Michelle – keep doing what you are doing!" -Edwin R. Monteiro, CPA/CITP Optimum Tax and Financial Group
"The vCon was a tremendous learning opportunity. An incredible amount of helpful information was presented, not just for those starting out but for any person with a professional accounting or bookkeeping practice. The Cloud appears to be the future of this industry. Michelle and Sandi and the presenters made it understandable and gave us the tools or at least the knowledge of the tools we need to get ahead of the curve. I highly recommend that anyone in this profession plan on attending the next one!" -Robyn A. Smithson, Smithson Bookkeeping & Business Services
"I would definitely recommend this Vcon! Great presenters and valuable information! The best thing was the accumulation of so much information on how to improve /grow my practice!" -Kathleen Higgins, MKH Bookkeeping Services
You can read many more rave reviews here:  http://accountingvcon.com/testimonials/
V Is for Virtual
Unlike a "brick-and-mortar" conference where you have to get on an airplane or in a car to get to the venue, the Ultimate Accounting vCon is virtual, digital, in the cloud!  So all you need is your computer and an Internet connection.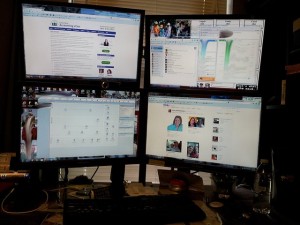 We'll use a combination of web, social media, and webinar technology to bring the conference to your coziest chair in your very own living room.  You'll get to ask the speakers questions, watch demonstrations and PowerPoint presentations, interact with your peers through our community forum, and win cool stuff, just like you would at a traditional conference.
Start Your Monitors — here's a pic from last year's Accounting vCon.  Multiple monitors definitely help to watch the webinar, participate in the live chat room in the community, virtual exhibit hall and more.  Network with your peers, vendors and Sandi and I too!
Our Theme
Our theme is "Accelerate Your Success," and we're getting back to basics.  We'll cover things that matter to your business like:
How to price both old and new services
How to find new revenue stream ideas
How to get clients
How to learn how to introduce clients to new technologies
How to transition clients to new technologies without losing your revenue
And much more
You've likely heard all about cloud technologies, and rather than talking theory, we're going to provide practical, useful and relevant information you can really use, letting you know:
What in the heck is the cloud, and what's in it for you
What type of clients the cloud is good for
How to get started, step-by-step, offering cloud services

And much more
If you currently have your own business and want fresh ideas or plan to start one soon and want to start building your skill sets, then the Ultimate Accounting vCon is perfect for you.
What are you waiting for?  Register now:  http://accountingvcon.com  Then, set your email auto-responder while you're at the conference!
Hundreds of your peers have already registered — don't get left behind!