Want to know how Cindy S., a Certified QuickBooks ProAdvisor, raised her rates by 50% just a few months ago and is already earning more revenue in her bookkeeping practice? Or perhaps how Suzanne, a CPA and Certified QuickBooks ProAdvisor, implemented a super simple, takes-a-tiny-bit-of-time follow-up system that got her a nice 4-figure account she wouldn't have otherwise gotten?
These QuickBooks professionals and several others are going against the odds and are growing their businesses this year.  They're just checking the box where it says "I want to opt out of this economic mess." And they are succeeding in spite of it all.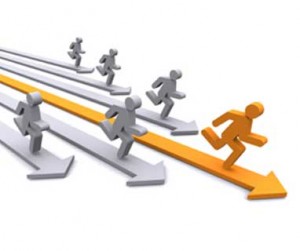 They're blowing past the 6-figure ceiling that 85% of QuickBooks consultants hit up against (according to my survey in my book, Successful QuickBooks Consulting).  And the main reason they are succeeding is because they are making marketing a priority and getting excited about their businesses by joining my friend Sandi Smith Leyva's Accountant'$ Accelerator practice growth program for QuickBooks consultants and other accounting professionals.
The 2011 program has been closed to new members since early July, but the good news is Sandi has just opened up the 2012 program for those of you who want to boost client retention, gain new clients, increase your marketing skills, discover new revenue stream ideas, and get a burst of motivation to take their businesses to the next level.
Cindy S. and Suzanne are just two of dozens of success stories from Accountant'$ Accelerator 2011.  Here are a few more:
Carrie increased her revenue per client and is serving her clients better than ever before.
Lee implemented Sandi's time management tips (It's likely you won't have heard them before!).  He gets more billed and is more likely to get on his bike and exercise after work.  He feels refreshed and less stressed and is making more money in less time.
Alana blew past her competition by implementing packages.
Cindy H. pulled in 2 big accounts from 2 new marketing channels that were brand new to her.
Sandi has members from 32 states and Canada, and the program is already paying off for over 80% of members who answered a September 2011 survey.   In addition, more than 25% of the survey respondents made more than 10 times their investment in the program.   We don't know what your results will be, but if you don't take a peek, we can guarantee that your past will be a good indicator of your future unless you change something!
As an affiliate for Sandi, I'm so excited to announce that the Accountant'$ Accelerator 2012 is open with early bird pricing at 33% off until midnight, November 15, 2011.  You can see the offer right here.
For the first 20 people who act fast and register, Sandi will be gifting you an MP3 copy of her popular CD, On Millionaire Time, where she shares the time management secrets of some of the owners of the fastest-growing businesses on the Inc 500 list.  (Don't tell her I told you she paid over $100,000 to gain access to this information!)
If you're ready to discover a refreshingly new solution to learn how to fill your accounting or consulting practice and grow your revenues, you can find out more right here.
To your success,
Michelle Long