New Version Provides New Insights, Improves Organization, Saves Steps on Accounting Tasks
MOUNTAIN VIEW, Calif. – Sep. 07, 2011 – Small businesses can get more done in less time while managing their finances with best-selling QuickBooks® financial software from Intuit Inc.  New and improved features in QuickBooks Pro and Premier 2012 help small businesses uncover new business insights, get organized and save steps on mundane accounting tasks. The software goes on sale Sept. 26. Please subscribe to this blog for more details about the new features of QuickBooks 2012 and more.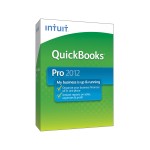 "Small business owners tell us they regularly work up to 50 hours per week," said Dan Wernikoff, senior vice president and general manager of Intuit's Financial Management Solutions division. "Knowing this, we improved QuickBooks to shave off valuable minutes and even hours in the small business owner's day. By getting time back managing their finances, small business owners can focus on what they love – their businesses."
Get New Insights
Millions of small businesses use QuickBooks as their data hubs, storing everything from customer contact to income and expense details, and rely on the program's reporting functions to help uncover business insights. Improvements in QuickBooks Pro and Premier 2012 provide new insights that go beyond standard reports, including:
Calendar View: Access an organized, auto-populated calendar view of appointments, to do's and important business tasks, such as invoice and bill pay deadlines.
Excel Integration Refresh: Export reports to Excel, modify and manipulate worksheet formatting and seamlessly apply formatting updates to new reports.
Contributed Reports: Search a library of more than 1,000 (and growing) custom, user-generated reports by industry, rating and popularity. Populate reports with QuickBooks data in just one click.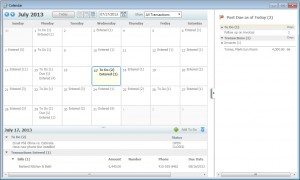 "Calendar View manages my work weeks for me," said Rebecca Doremus of RST Computer Services, Inc. in Holly Hill, Fla. "Previously, I juggled a paper calendar and an online calendar to track my appointments, to do's, and forecasts. The system was laborious and meant I duplicated a lot of entries between the two calendars. The automated calendar in QuickBooks 2012 will save me significant time managing my schedule."
Get More Organized
Having contacts, documents and asset information at their fingertips boosts small businesses' efficiency and helps them avoid pitfalls, such as missed sales and dissatisfied customers. Based on the popularity of the Customer Center and Report Center, QuickBooks Pro and Premier 2012 feature three new central repositories that make important data easily accessible, all in one place:
Lead Center: Track prospective customers in one place, making follow up easy.
Document Center: Store and manage documents, such as contracts, proposals and receipts on your computer. Easily attach documents to forms, such as invoices.
Inventory Center: Centralize inventory tasks, items and reports for fast and easy access. Available in QuickBooks Premier 2012 only.
"Lead Center takes the pain out of managing the sales process," said Bruce Novis of MVP Anesthesia in Norwood, Mass. "Instead of leaving it to me to track each point of contact with a prospective customer in an Excel spreadsheet, Lead Center organizes my lead contacts and notes, making follow up so easy that I'll save valuable time managing contacts."
Get Time Back, Save Steps
To save small businesses steps performing repetitive tasks, QuickBooks Pro and Premier 2012 includes new features that give them time back:
Batch Timesheets: Create timesheets for multiple employees or vendors who work the same hours at once.
One-click Transactions: Eliminate the need to re-enter customer data into different transaction forms.
Batch Invoicing for Time and Expenses: Bill multiple customers at once for services rendered. Available in QuickBooks Premier 2012 only.
"The new batch timesheets feature not only saves me time running payroll, but also reporting out to customers on hours worked on a certain job," said Chris Hodgdon of Chris Hodgdon's Computer Service in Kaufman, Texas. "Batch timesheets will save me meaningful time in the back office."
Get More Out of QuickBooks
For a robust customer relationship management solution beyond the new Lead Center in QuickBooks 2012, Intuit also today announced the availability of Salesforce for QuickBooks. This application allows small business owners to save time and close more deals by more efficiently managing customer relationships.
Salesforce for QuickBooks synchronizes customer data with QuickBooks to provide streamlined information to those in sales and management to eliminate data entry in two different systems, showing aggregated customer information alongside probability for closing a deal. Salesforce for QuickBooks is available on the Intuit App Center, where small businesses can easily find, buy and use connected Web-based applications that run on the Intuit Partner Platform.
QuickBooks Accountant 2012
Intuit also introduced the 2012 edition of QuickBooks Accountant, the company's leading bookkeeping, write-up and financial reporting solution for accounting professionals. Its features help accountants enhance their services so they can work more efficiently and better collaborate with their clients. New features include:
Accountant Center: Aggregate all accountant functions to make navigation easier and gain faster access to key accounting tools.
Period Copy: Create a copy of a client's data file for a specific date range, making the file smaller and easier to send.
Starter Copy: Save time setting up new clients by using an existing company file as a template with Create from an Existing Company File. Copy over company preferences, chart of accounts, sales tax items and codes.
Read more about QuickBooks Accountant 2012 in this post.
Pricing and Availability
QuickBooks Financial Software Pro and Premier, including industry-specific versions, are scheduled to be available for purchase directly from Intuit on Sept. 26 by calling 888-2-INTUIT or visiting www.quickbooks.com. QuickBooks Pro and Premier are scheduled to be available on Oct. 9 at leading retailers including Amazon, Best Buy, BJ's, Costco, Fry's, Office Depot, OfficeMax, Sam's and Staples.
Suggested retail prices for 2012 editions are:
QuickBooks Pro- for small businesses up and running: $229.95
QuickBooks Premier, including industry-specific editions for accountants, contractors, manufacturers and wholesalers, nonprofits, professional service firms and retailers – for small businesses established and expanding: $399.95
Resources:
About Intuit Inc.
Intuit Inc. is a leading provider of business and financial management solutions for small and mid-sized businesses; financial institutions, including banks and credit unions; consumers and accounting professionals. Its flagship products and services, including QuickBooks®, Quicken® and TurboTax®, simplify small business management and payroll processing, personal finance, and tax preparation and filing. ProSeries® and Lacerte® are Intuit's leading tax preparation offerings for professional accountants. Intuit Financial Services helps banks and credit unions grow by providing on-demand solutions and services that make it easier for consumers and businesses to manage their money.
Founded in 1983, Intuit had annual revenue of $3.9 billion in its fiscal year 2011. The company has approximately 8,000 employees with major offices in the United States, Canada, the United Kingdom, India and other locations. More information can be found at www.intuit.com.
Intuit, the Intuit logo and QuickBooks, among others, are registered trademarks and/or registered service marks of Intuit Inc. in the United States and other countries.