There have been several new features and enhancements for accounting professionals over the past few years and this year is no different.  Intuit QuickBooks® Accountant 2012 is Intuit's bookkeeping, write-up and financial reporting solution for accounting professionals supporting multiple QuickBooks clients. The 2012 solution provides unique tools to help you be more productive and work more efficiently so you can better collaborate with your clients. With
the new and enhanced features included in Accountant 2012, you can: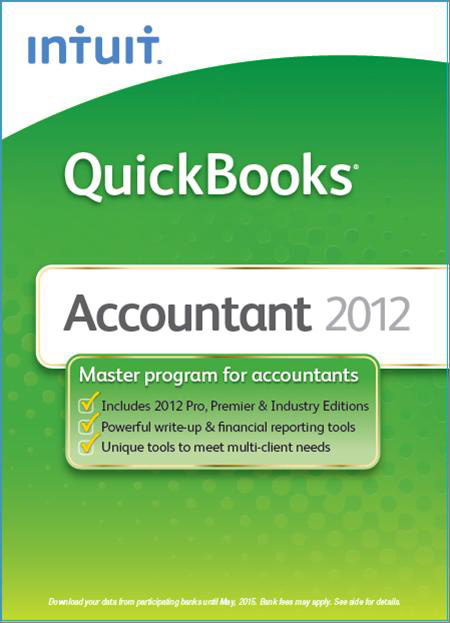 Get more value with key accounting tools to help manage your business
Get new insights from data where and when you need it
Get time back and save steps doing repetitive tasks
Subscribe to this blog for more details about specific features for QuickBooks Pro and Premier, Accountant, details about QuickBooks for Mac 2012, QuickBooks Enterprise 12.0, Salesforce for QuickBooks and more in upcoming blog posts.
Read this post for more details about the unique features in QuickBooks Accountant that are not available in QuickBooks Pro.  It helps clarify why accountants, bookkeepers, and tax professionals should use QuickBooks Accountant instead of QuickBooks Pro.   Plus, the new features in QuickBooks Accountant 2012 provide more compelling reasons to get QuickBooks Accountant 2012!
Key New Features and Enhancements
Get more value
Accountant Center:

NEW!

Users now have quick access to their most used accountant tools from one customizable, central location. The Accountant Center allows users to view your last reconciled date and balance for all bank and credit card accounts and provides easy access to the latest accountant resources,reports and statements.
Easy access to time saving tools like Reclassify Transactions, Fix Unapplied Payments and Credits, Write Off Invoices and more outside of Client Data Review.
Customize the Accountant Center to meet your needs and have it show when opening a company file.
See important accountant updates at a glance
Get more customized insights
 QuickBooks Statement Writer:

NEW!

Now included in QuickBooks Accountant, QuickBooks Statement Writer helps users create and customize advanced financial statements and associated documents. The Template Designer enables users to quickly create reusable custom templates that can be used across multiple clients. (Note QuickBooks Statement Writer requires Excel 2003 or 2007).
Get time back
 Period Copy:

NEW!

Easily create a copy of your clients' QuickBooks files for a limited date range. QuickBooks removes transactions outside of the date range you specify making it easier and faster to look at data for a specific period. The data file is also smaller making it easier to send.
In the past if we needed a QuickBooks file for a specific date range, we had to use third party programs or pay someone to create a period copy.  Now, we can do it in QuickBooks Accountant 2012.
Starter Copy:

NEW!

With "Create From Existing File," users can save time setting up new clients by using an existing company file as a template. Essential elements of the company setup such as preferences, chart of accounts, and type of tax form are used to create the new file.
Accountant's Copy:

Improved!

Continue to reduce downtime and increase efficiency while simultaneously working on the same files as your clients. Accountant's Copy now returns customer and vendor credits applied back to client's company file.
Many people use the Clean up Unapplied Payments and Credits tools (for Accounts Receivable and Accounts Payable) in Client Data Review  — now those changes will go back for clients to import with the Accountant's Copy changes!
QuickBooks File Manager:

Improved!

Continue to manage all your clients' files, user names, and passwords in one place. Now view summary company information for each client file such as tax form used, start of the company tax year, report basis, fiscal year start date, whether they collect sales tax, and process payroll. File Manager also now allows you to easily transfer settings to another system.
Availability
Intuit QuickBooks Accountant is expected to be available for purchase directly from Intuit on September 16, 2011 by calling 888-2-INTUIT or visiting http://accountant.intuit.com/quickbooks.
QuickBooks Accountant 2012 will be available on October 9, 2011 at leading retailers including Amazon, Best Buy, BJ's, Costco, Fry's, Office Depot, OfficeMax, Sam's, Staples.
QuickBooks ProAdvisor Program

This post contains information about changes and enhancements to the QuickBooks ProAdvisor Program for 2012 and this post details why I recommend accounting professionals join the ProAdvisor Program.