I want to share with you another chance (and there's only a few more days) to learn about a program designed to help  ProAdvisors and CPAs just like you break through to six figures and beyond in their QuickBooks practices.  It's ridiculously priced for what you get, and the program is closing on July 8, 2011 to new members. 
Just one of Sandi's time management tips has routinely doubled billings for people who implement it.  Although she can't promise the same results for you, you'll likely never run across these techniques unless you're regularly schmoozing with lots of multi-millionaire business owners like Sandi is on a regular basis AND getting them to dish their best profit-making secrets.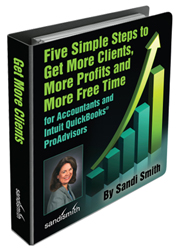 You might remember from an unscientific study in my first book, Successful QuickBooks Consulting, that many QB ProAdvisors — a full 85% — are stuck at an annual revenue of five figures with no idea of how to get to six figures.  As service professionals, if we don't fill our inventory of hours, that time goes unused and unbilled forever; we can never reclaim that revenue.  But that's only part of the problem.  What if we don't want to work that hard, but still earn more?  What happens when we burn out?
My friend Sandi Smith Leyva, CPA and Certified QuickBooks ProAdvisor, has developed a brand new program, Accountant'$ Accelerator, that shows QB consultants and accountants how to grow their practices while working less and making more.  It might sound impossible, but she knows several thing most QuickBooks ProAdvisors haven't figured out:  how to leverage their knowledge beyond the traditional "hours for dollars" revenue model, how to leverage their time to increase billings while working less, and how to make a few tweaks in their marketing messages to skyrocket results.
Sandi's spent several years working and studying outside of the accounting industry where she learned some super-fresh new ideas that haven't yet made it to many of the accounting firms and consulting practices in our profession.  These new ideas can help our clients grow their businesses faster, help ourselves develop a full practice and meet the revenue goals we desire, and even do our part to turn around the economy.   And she's sharing them in her new Accountant's Accelerator program.
You might recognize Sandi Smith's name; she has been delivering marketing advice for QB consultants like you via Intuit's ProConnection newsletter since 2001 (and before that, for the AICPA).  She's helped thousands of accounting professionals grow their businesses, and she can help you too.
Sandi and I recently met at the Scaling New Heights conference, and we've partnered up on an exclusive deal just for my readers.  In Sandi's Accountant's Accelerator program, you will have access to her industry-specific marketing expertise as well as 7 new consulting tools you can share freely and unlimited with all of your clients. The program got started a bit before tax season, and is now just getting into high gear with great tools for you on client retention, marketing skills specifically tailored for accountants, and new revenue generation strategies to have you sailing through any slow times.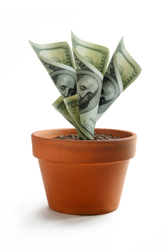 Just for my subscribers, she is offering her program at 35% off until midnight EDT, July 8, 2011.   Plus, the program closes to new members on July 8, 2011, so if you want to be in the Charter group (with the best prices for not only this year but also next year's program), you need to act now.
You can see our special offer right here: http://bit.ly/michelleandsandi
One more gift for people who act fast, because we know how time-stressed you all are:
Sandi is throwing in her favorite audio to the first 7 people who sign up for her program, Accountant's Accelerator:  "On Millionaire Time:  9 Insider Time Management Secrets to Run Your Business Better."  Sandi told me she has gotten more comments in the last year on one secret method on this time audio than anything she has ever written about in the last 10 years (and if you've read Sandi, you know how good her stuff is!).
The 2011 Charter program closes to new members July 8, 2011, so if you want to be part of the Charter group, it's time to act now and make an investment in your practice.
Sign up here:  http://bit.ly/michelleandsandi
To your success,
Michelle Long