I asked one of my clients, Dan Stratman (Captain Dan) creator of Airport Life® app to share his story of starting his business.  Captain Dan came up with the idea for the Airport Life app a couple of years ago.  He has invested about $100,000 of his own funds thus far and recently announced the launch of the mobile app to aid stressed and frustrated passengers.  I enjoy working with clients like Dan and seeing them succeed with their business! Here's Captain Dan's post about creating his business and the value of using outside resources and experts to help:

I have been an airline pilot for 23 years and have helped a lot of lost, frustrated and stressed out passengers. Walking around in an airport with a pilot uniform on makes you a magnet for passengers needing help. I decided to put all my inside knowledge of the airline industry to use by creating the Airport Life® travel app for airline passengers. It does something that is sorely needed-it makes air travel easier!
Creating the app and being involved in the fastest growing tech segment in history – mobile devices and apps- has been a lot of work but very exciting at the same time. Of course as the entrepreneur you have to wear many different hats and are expected to deal with many different subjects. Overwhelming is a word that accurately describes entrepreneurship.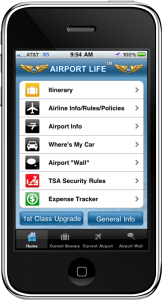 Luckily I have been able to access outside resources to help me with areas I don't have expertise in. The first resource I found was the Kauffman Foundation. It is a world-renowned entrepreneur support organization located right here in Kansas City. I went through their FastTrac TechVenture class recently. It is specifically designed for people like me – tech startup entrepreneurs. Going through that course was one of the best things I have done since starting my business. So many "holes" in my skill sets and knowledge base were filed by being in the TechVenture course. The Kauffman Foundation has the reputation to be able to bring in top experts in various fields to speak to the FastTrac classes. Hearing what they had to say about their fields and being able to ask all the questions I had was invaluable to me.
One of the best resources I found during my course was Michelle Long, owner of Long for Success. She is a CPA and taught our class how to use the financial spreadsheets we used to prepare the financials for our companies. I am one of those people that just doesn't get accounting. It actually gives me a headache! I worked with Michelle after the course to get my financials ready to present to angel investors. Now I can present my numbers to the toughest investor groups with complete confidence.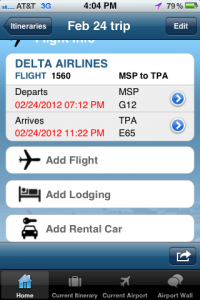 I highly recommend using outside experts, like Michelle, when you are trying to turn your great idea into the next Google or Apple. It saves you time, headaches and even money. The quality of work will be better plus you will end up much better informed about that area of business than if you tried to do it yourself. Entrepreneurs like to be deeply involved in every aspect of their businesses. In reality, knowing when to get help will increase your chances of succeeding greatly.
My goal with the Airport Life® app is to make air travel easier for all passengers. Because of all the great resources I have been fortunate enough to find, I am well on the way to achieving that goal. If you happen to see me walking through an airport, don't hesitate to stop me. I'll be happy to help you!