Are you considering an iPad or other tablet for the holidays?  Are you wondering how will you use it?  Are there enough benefits for you to justify the cost?  Do you need 3G or WiFi only?  How much storage space should you get?  Can you use QuickBooks or other programs on an iPad or tablet?  This blog post will provide you with an overview to help answer these questions and more to help you decide whether to get an iPad (or other tablet) or not.  I hear a lot of accounting professionals and business people wondering if they will benefit from an iPad or tablet.  I have had my iPad for six months and I love it.  Hopefully this post will help answer some of your questions to decide whether an iPad or tablet is right for you.
Benefits of an iPad or Tablet
At this point, an iPad or tablet will not replace the computer (desktop or notebook) for most people.  However, the iPad or tablet can still  improve our productivity and efficiency with benefits such as:
Portability — lightweight and easy to take anywhere.  You can use it while waiting at the dentist, soccer practice, etc.
Accessibility — to email, calendar, reading materials, newsletters, client documents and more
Instant on — no waiting for it to boot up
Battery life — up to 10 hours without charging
Fun Factor — it is just fun to use, addictive and cool
iPad, Google Android or Other Tablet?

iPad dominates in market share, but Google Android tablets (several manufacturers) are gaining.  These are the two main players, and I'd recommend getting one of these.  Consider the synergy from having your phone and tablet on the same platform.  You can share apps and data easier and it would be easier to learn one platform.  In other words, if you have an iPhone, it makes sense to get an iPad.  If you have an Android based phone, consider an Android based tablet.
Apps not Programs
You cannot install your computer programs on an iPad or tablet.  They have a different operating system and use apps not programs.  There are thousands of apps available for download.  Many apps are free, most less than $10 but some are $30 or more.  One thing I really don't like about apps is there is no trial period before you buy it.  Thus, it is important to read the reviews and comments from others before you purchase an app.  Google the reviews on various apps to learn more about them too.
There are a lot of great apps for reading, surfing the web, etc.  However, an iPad or tablet is not great for data entry.  For example, if you need to enter transactions or work with QuickBooks, it is challenging.  Read this post for options to access QuickBooks with an iPad (the concepts would be the same for other tablets).  There are remote access apps which allow you to access your windows computer remotely.  A few remote access apps to check out include Logmein Ignition (my favorite but $30 so watch for a sale), TeamViewer (also a great one), Join.me and others.
Office and Work Related Apps
Here's a few apps to consider for your business needs:
iWorks (Pages, Numbers and Keynote) – sold together or separately these are similar to Microsoft Word, Excel and PowerPoint but they are not 100% compatible.  For example, if you open a Word doc with Pages, some fonts, images, etc. may not convert or display properly.   Other 'Office' apps (like Documents to Go and others) are good alternatives too.  Read the reviews and pick the one which best meets your needs.
At The Sleeter Group's Accounting Solutions Conference I presented a session on this topic using my iPad and iPhone.  I used 2Screens app for my PowerPoint slides (along with a VGA connector for my iPad to connect to the monitor) and 2Screens Remote for my iPhone as the remote control for the slides.  Although my slides didn't convert perfectly (there were some spacing issues, etc.) it worked pretty good.  Slide Shark was a free app for PowerPoint slides but it didn't have a remote control feature.  I could've used Keynote, but I wanted to try a different app.
Intuit GoPayment or Square — to receive credit card payments
QuickBooks Mobile (or Connect) – enter estimates, invoices, receive payments, etc. and sync with the QuickBooks file in the office
DisplayLink (or others) to use the iPad as a second monitor.  Here's a post with details.
GoodReader — read, annotate, comment, etc. on PDFs, books and more
RSS anywhere — blog subscriptions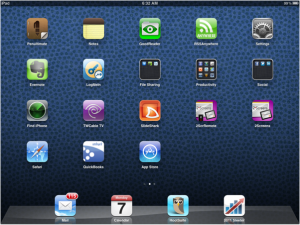 Evernote — easy to remember anything
File Sharing — SugarSync, Dropbox, Box.net, etc.
FlipBoard — magazines, Facebook and more
Social Media– Linkedin, Facebook, Twitter, Hootsuite and more
WordPress — manage your blog
Remote access — Logmein Ignition, TeamViewer, Join.me and more
Penultimate — writing notes with a stylus
WebEx and GotoMeeting
Time, Billing, Expense Tracking and many more
Travel apps — Tripit, Kayak, Priceline, the airlines and more
News, Radio, TV apps
Google Maps
Special Calendars, project management, lists and more
Games – lots and lots of games
Anything else you probably need (or didn't even think about) — there's an app for that!
WiFi or 3G?
Consider where you will use your iPad or tablet.  Will you have access to WiFi (wireless internet access) most of the time or not?  The 3G option is like a cell phone data plan for your iPad or tablet.  It provides internet access where ever you have a cell phone signal.  However, an iPad with 3G is $130 more than the WiFi version and you will need a data plan from a cell phone company.  You do not need a contract since they usually offer a monthly option for about $20 -$30 / month.
Another consideration is the ability to create your own hotspot.  For example, I have an iPhone from Verizon and I can use it to create a hotspot (wireless internet access) for up to 5 devices (my iPad, notebook, kids computers, etc.).  It is only $20/month for up to 2 GB of data.  In the summer when we are at the lake without internet access, I turn on my iPhone hotspot feature.  Then, my kids and I can access the internet via my iPhone.  As long as no one is downloading movies, etc. the 2 GB limit hasn't been a problem for us.   This is why I decided to get an iPad with WiFi only.
I should mention that when I use my phone as a hotspot, I cannot talk on the phone at the same time.  Also, it drains the phone battery faster than normal, so it helps to be able to plug into a power source.
Storage Space Considerations
For the vast majority of users, 16 GB of space is more than sufficient.  Apps do not take up much space and there are a lot of free storage options available.  Box.net had an offer of 50GB free for iOS5 users, SugarSync offers 5 GB free, DropBox 2 GB free, etc.) Unless you need lots of movies for travel or other reasons, you probably do not need the extra storage space.
Accessories — Cases and Keyboards
Once you get an iPad or tablet, you are excited and want to buy accessories to go with it.  Check out eBay for lots of cases and accessories at the best prices. Don't spend too much money right away but wait and see how you are actually using it.  I wondered if I needed to spend the money for a screen protector (some are $20-$25) and I asked a Best Buy salesman what he would recommend for his family.  He took out a car key, scratched it across the iPad and it didn't do anything.  He told me not to waste my money.  I've had my iPad for 6 months (in a case but without a screen protector) and there aren't any scratches on the screen at all.
I'm not too fond of the touch screen keyboard on the iPad and I really wanted a keyboard.  I tried the ZAGGmate Keyboard/Case and it looked really cool.  However, it was too small (and it broke).  Then, I got the Logitech Tablet Keyboard for iPad which was almost 2 inches longer and much easier for me to type.  The new ZAGGFolio for iPad 2 and Samsung Galaxy would be worth checking out too.
Save Money When iPad 3 is Released
The rumor is that the iPad 3 will be released in March, 2012.  When it is released, the price of the iPad 2 will probably be reduced $100 (based on the price of the original iPad when the iPad 2 was released).  They go fast, so be ready to act when it is announced or released.  Here's a blog post with details of how I bought my iPad for $360 when the iPad 2 was released.
I hope this has helped you and would love to hear your comments too!  I have the original iPad so if anyone wants to get me an iPad 2 for Christmas I would love it! (and write a blog post about it) 🙂