I love my new iPad and one of the first things I wanted to know was 'Is there an app for QuickBooks?'  How can I access or use QuickBooks on my iPad (or iPhone or iPod Touch)?  This post will discuss different options or methods to use or access QuickBooks on an iPad (or iPhone or iPod Touch) — QuickBooks Connect, QuickBooks Online mobile access and QuickBooks Pro/Premier or Enterprise Editions via remote access.
Can I install QuickBooks on an iPad?
You can't install QuickBooks on an iPad — not even QuickBooks for Mac. Instead of traditional programs there are apps for the iPad from the iTunes App Store.  There are over 65,000 apps specifically for iPad and many are free.  The only QuickBooks app is QuickBooks Connect (discussed below) and it is free.  There are a couple of apps for QuickBooks training videos (full disclosure — they are training videos I recorded for KAlliance) in the App Store.
QuickBooks Connect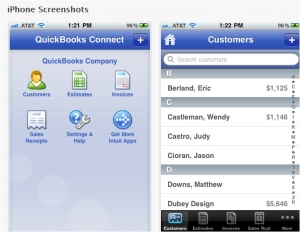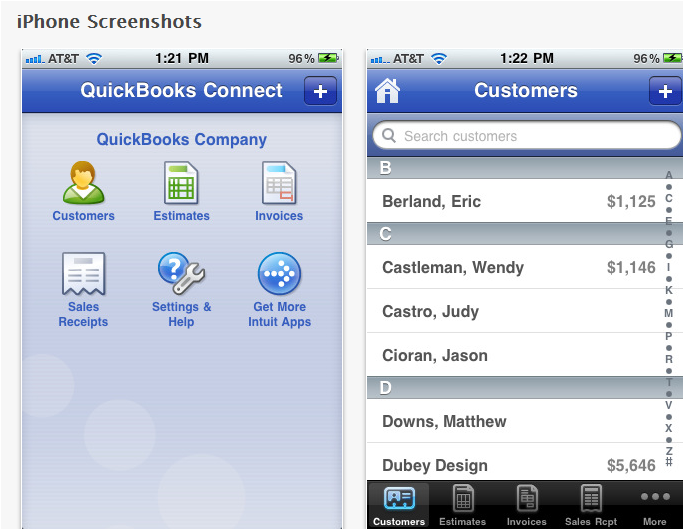 QuickBooks Connect is a service available with QuickBooks 2011 (Windows only — it is not compatible with QuickBooks for Mac at this time).  With a QuickBooks Connect subscription (about $10/month for one user), you can enter transactions remotely via a computer, iPad, iPhone, Blackberry or some other smart phones.  Then, QuickBooks Connect syncs data with the QuickBooks file in the office (or whereever).  Specifically, you can manage customers — i.e. add and view contact information and balances.  Plus you can manage the sales or customers side of your business — specifically you can create and view estimates, invoices or sales receipts.  There are a few more features and functionality available if you're using QuickBooks Connect via a computer vs. iPad or cell phone.  You can test drive QuickBooks Connect with sample data by downloading the application and clicking on 'take a test drive'. Read Complete details about QuickBooks Connect here.
QuickBooks Online Edition
For QuickBooks Online users, there is a mobile version available for iPad but there isn't a specific app for QuickBooks Online.  Use Safari (the iPad browser) to login and you will get the mobile version of QuickBooks Online.  You can access more features and functionality of QuickBooks with it compared to QuickBooks Connect, but there are still some things you can't do or access.  "Specifically, the available features on the iPad are: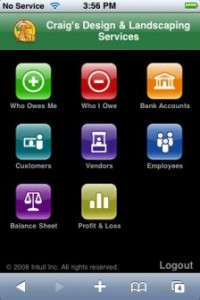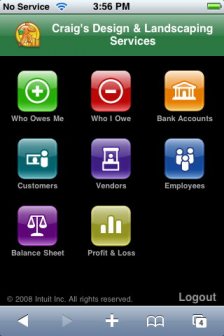 View accounts receivable and payable
Add and edit customers, vendors and employees
View vendor, customer and employee lists
Create invoices on the go and email them to your customers; note that some fields, such as Description, are not available when creating invoices on mobile devices at this time
View bank account and credit card balances
View Balance Sheet and Profit & Loss reports
If you need to enter or view data beyond what is listed above, you should log into your company through a PC or Mac.
Note: Some invoice actions, such as including billable time/expense charges on an invoice, are not currently available in the mobile version of QuickBooks Online and must be done through the full version of the program." (Thanks to QBO-Sherrie for her input).  Learn more about QuickBooks Online here and remember ProAdvisor membership includes a subscription to QuickBooks Online Plus and Essentials.
QuickBooks Desktop – Remote Access
If you can't install QuickBooks, can you access QuickBooks Pro, QuickBooks Premier or QuickBooks Enterprise Solutions on your computer using an iPad?  This is the most relevant question for me and a lot of QuickBooks users.  There isn't an app for QuickBooks but you can login to your computer from your iPad (or iPhone or iPod Touch) remotely.  Then, you can navigate and work with QuickBooks as if you were sitting in front of your computer.  There are several apps you could use to access QuickBooks remotely from your iPad including: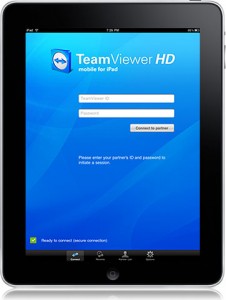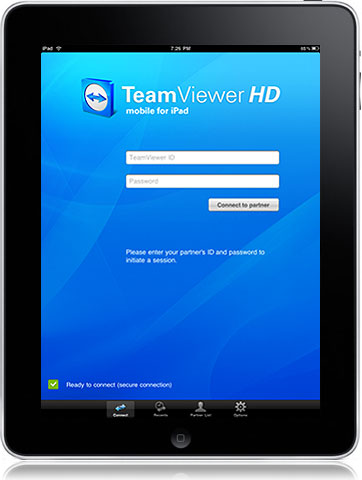 There may be other remote access apps as well, but these were the main ones I found and explored.  Splashtop was easy to set up and use, but its remote capabilities were limited at this time. You can only access computers that are part of your network.  In other words, if you're sitting on the couch, you can login to the computer in the other room.  I wanted something that would allow me to login remotely when I'm traveling or away from home too.
Based on my experience and some testing, TeamViewer is what I would recommend to access QuickBooks remotely from your iPad.  It is very easy to setup and use and free for personal use.  Simply set up your computer for unattended access and you can login remotely when you're traveling or away from home (as long as you leave the computer turned on).  If you need to help mom, dad or grandma, you can help them remotely with TeamViewer.  All they need to do is enter your Partner ID and a password (after they've downloaded TeamViewer) and you can see their computer.
I'm still a newbie to the world of iPads, iPhones and iPod Touch, so I thought I should seek another opinion. Stacy Kildal of Kildal Services, LLC and Radio Free QuickBooks had this to share:  "I've had an iPhone for about 2 years, and have tried just about every free remote access app available. Mostly so that if I'm not near my computer, I can log in whenever I need to see something or do something that I can't do with a native iPhone app.
The one that has been easiest to setup and has worked without issues consistently has been TeamViewer. Free for personal use, it's a wonderful app – both the iPhone and the TeamViewerHD for iPad. I can be in the backyard playing with the kids and rather than having to drag everyone back in, I can login to the computer whenever I need to; it works great on wifi, 3G and Edge networks."
I hope this has helped you learn about the otions available to use and access QuickBooks via an iPad, iPhone or iPod Touch.
Don't Miss:  Pros and Cons of Getting an iPad and
iPad's Allure Combined with a Good Price was too hard to resist which can help you when choosing which iPad to get.

Note of clarification: Only the newer iPod Touches which have the latest OS so they are like an iPhone usually work.  Check the detail specifications based on your model & OS.