I just returned from The Sleeter Group's Accounting Solutions Conference in Anaheim, California (i.e. right by Disneyland).  As usual, there were many exhibitors giving away promotional items.  When my kids were little, they liked it when I would bring home 'goody bags' for them but that doesn't work now that they are older.  Plus, I have a drawer full of pens, sticky notes or note pads.  I don't need squishy balls or T-shirts.  I never seem to win the good prizes like an iPad, Kindle or gift cards; however, I did win bunny slippers from InsynQ!  Thus, I like to look for new, unique marketing ideas from the exhibitors.  Here's a couple of the best marketing ideas I noticed from The Sleeter Conference this year:
Most Buzz — Cloud9 Real Time
Cloud9 Real Time created the most buzz at the conference with their "Find your Mickie/Minnie ears" promotion.  Here's how it worked:  The Mickie/Minnie ears had a Cloud9 Real Time sticker with a unique number on the front and back of one of the ears.  I picked up #90 Mickie ears and I needed to find  Minnie with #90 to match.  Then we would go together to the Cloud9 booth to pick a prize and get a sticker for the other ear that said 'Cloud9 – I Won' or something similar (I can't remember because I never found my Minnie).  I heard of at least 3 people who won an iPad and numerous people who won $20 cash!  The promotion had people talking and looking for their match!
Most Useful — Intuit

Intuit had several promotions and give-aways at the conference including one that I think can be called the 'Most Useful'.  They handed out a mouse pad with QuickBooks keyboard shortcuts and a list of apps that integrate with QuickBooks.  This is a useful item and great reference for the QuickBooks shortcuts that can save you time on a daily basis.
Useful and Unique — Wave Accounting
Wave Accounting came up with a useful and unique promotional item to give away from their booth.  They had socks with labels which included their logo and different sayings like: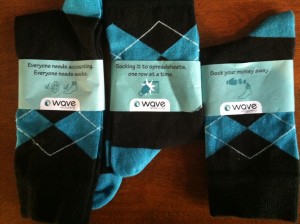 Socking it to spreadsheets, one row at a time
Everyone needs accounting.  Everyone needs socks.
Sock your money away.
I thought it was a unique item and it caught my attention so I would stop at their booth.  When I told them I was going to include it in my blog post, they gave me 3 pairs (with different slogans on each).
That is my view on the best marketing ideas from the exhibit hall this year.  Were you there?  Did you win?  Share your thoughts and comments below.