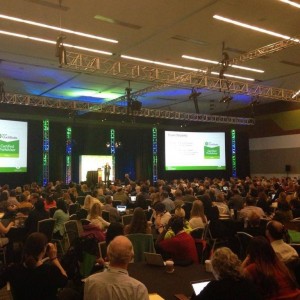 I'm sorry if you missed QuickBooks Connect 2014 or were unable to attend.  I hope that won't happen again this year!
Are you serious about:
Growing your practice?
Expanding your knowledge and expertise of QuickBooks?
Learning more about 3rd party apps that integrate with QuickBooks?
Networking and connecting with thousands of accounting professionals, small business owners, developers and Intuit employees?
These are just a few reasons why you need to attend QuickBooks Connect 2015.  What is QuickBooks Connect?  In my opinion, it is the ONE conference you do not want to miss!  It is unique and well worth it to attend.  Per the website (http://quickbooksconnect.com) "QuickBooks Connect is unlike any event you have ever been to before.  Thousands of entrepreneurs, small businesses, accountants and developers unite under one roof to connect, learn & grow.  Friends, poets, visionaries and industry titans are dispersed throughout a dynamic agenda of main stage and intimate sessions."
I'll share my experience from last year and some thoughts about what I'm excited about for QuickBooks Connect 2015.
Keynote Speakers
The keynote speakers last year were amazing and truly inspiring and motivating.  It is always great to hear Intuit's founder Scott Cook and CEO Brad Smith.  Plus, it was amazing to hear the experiences, lessons learned and insights from Bill Rancic, Magic Johnson, Ariana Huffington, Guiliana Rancic, Martha Stewart and more.
I'm really looking forward to this year's lineup (http://quickbooksconnect.com/speakers/) which includes:
Brad Smith – Intuit CEO
Robert Herjavec – 'Shark Tank' and founder of Herjavec Group
Bill Rancic – 1st winner to 'The Apprentice'
Jessica Alba and Brian Lee – CEO & Co-founders of The Honest Company
And more!
Breakout Sessions
There are lots of valuable breakout sessions available for accountants, small business owners and developers.   You can see the sessions and agenda here:  http://quickbooksconnect.com/agenda/  There are sessions on QuickBooks, practice management, value pricing, social media and many more.
Last year I presented the sessions for QuickBooks Online Advanced Certification to about 500 people!  It was great seeing so many people eager to earn the advanced certification.  This year I'll be presenting these sessions and I'd love to have you join me for them:
Here to There: The Accountant's Journey toward Professional Greatness – we will be working on your business to help you achieve professional greatness.  These sessions are packed with resources and tips you will be able to start implementing immediately.  We will not just discuss theories; but we will do some exercises, learn about practical tips and resources to help you on the path to greatness.  You'll learn about Michelle's "5 P's to Professional Greatness:  Planning, People, Processes, Product and Pricing".
Working Across Borders: Understanding Canadian Clients — This session will provide an overview of some of the factors that affect working with Canadian clients.  It is targeted primarily for U.S. consultants who currently work with, or would like to work with, Canadian clients.
You can select whichever sessions you want to attend and you are not limited to the accountant specific sessions (i.e. you can attend sessions for small business owners or developers too).
The Band
Last year, the band was Train (Soul Sister and more) and it was almost like a private concert!  They even allowed about 15-20 people to get on stage to dance and sing along with the band!  With an open bar and great music, it was a great night of fun for everyone!
The band for QB Connect this year was announced during one of our QB Power Hour webinars (Thanks Intuit!) and it will be the Goo Goo Dolls!  I'll admit that initially I couldn't remember their songs.  However, once I heard a few of them, then I remembered.  Perhaps you'll remember one of the biggest hits from the 1990s, 'Iris' from the soundtrack for 'City of Angels'.  Here's a list of the 10 best Goo Goo Dolls songs along with their YouTube channel to refresh your memory and get you prepared to sing along!
Unexpected Delights
It seems like there were always unexpected delights – from the snacks everywhere (both healthy and not so healthy) during sessions to opportunities for book signings from the motivational speakers.  I was thrilled to 'score' a ticket for a book signing from Bill Rancic (the 1st Apprentice winner).  Maybe this year I'll get a chance for a photo opportunity or backstage pass with some of the great speakers!
Details and SAVINGS!
QuickBooks Connect 2015 will be in San Jose, California Nov. 2 – 4.
Use this code (QBCBIRD15) to get Early Bird Pricing for QuickBooks Connect but HURRY!  It is a limited offer and the event will most likely sell out this year!
Southwest Airlines SALE on flights through Sept. 24 – as low as $73 one way
Southwest Airlines has flights into San Jose or San Francisco (then you could take the train to San Jose) at GREAT prices right now.  But hurry – the sale ends Sept. 24.  https://www.southwest.com/html/promotions/nationwide-sale-150908.html
Don't wait – Register for QuickBooks Connect NOW, book your flight and make your reservations now!