Is QuickBooks part of your business?  If you are an accountant, entrepreneur, small business owner or a developer, then you should make plans to attend QuickBooks Connect October 21 – 23, 2014.  Intuit is creating a unique, highly anticipated event bringing us all together in one place!  I'm honored and excited to be speaking at this great event and I hope to see you there too!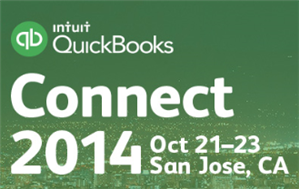 Intuit is creating a great opportunity to combine education, inspiration and connection by creating an awesome conference experience.  You will have access to the people tools and information you need to succeed.  This unique conference will include:
Blockbuster main stage keynotes by leaders in business, entertainment and other fields – check them out here!
Tailored breakout sessions and workshops with accountant, small business and developer experts
Cool activities including expert roundtables, innovation gallery walks, hands on workshops and more
Plus many unique opportunities for making valuable connections that will help you take your business to the next level
Specifically, for accounting professionals, you can download the training guide for accounting professionals here.  I'm thrilled to be presenting a couple of sessions – one of which will be offered for the first time ever (more details will be announced soon).  Specifically, there will be
QuickBooks Desktop Deep Dive (Pre-Event)
QuickBooks ProAdvisor Certification Exam Preparation
Practice Growth and Development
In-Depth Training on QuickBooks Online
In-Depth Training on Intuit Professional Tax Solutions
Keynote Addresses from Industry Thought Leaders
I'm sure you will have a great, one of a kind experience from the conference with a sense of empowerment to better support your small business clients!  In addition to sessions on QuickBooks and QuickBooks Online, you will learn more about how technology can help you take your firm to the next level.  Plus, there will be sessions to help you grow your practice with topics including:
Social media/ SEO/blogging
Hiring your first employee
Growing your firm on a budget
Consulting strategies
Collaborating with clients
And more
Monique Colver, owner of Colver Business Solutions states:  "I'm really looking forward to QB Connect in October. So much of my work involves technology and helping clients get to the cloud, and QB Connect is offering an impressive lineup of activities to help me take my business to the next level. Interacting with my peers and learning more about QuickBooks and cloud technologies are just two of the many reasons I signed up for this conference."
Invite Your Clients to Attend QuickBooks Connect
Plus, this will be a great experience and opportunity for your clients too!  I'd encourage you to invite your clients (or potential clients) to attend QuickBooks Connect too.  I know how busy you are, so to make it easy for you, you can download this sample letter to send to your small business clients and customize as needed to invite your clients to attend QuickBooks Connect too!
Details on QuickBooks Connect
If you want to attend QuickBooks Connect, you can register at www.QuickBooksConnect.com. Early registration is available through Aug. 15 at a discounted price of $169.The cost of registration is $199 after August 15th. You also can go to the website to find out more details about sessions and speakers specifically for small businesses.
Upcoming Live Q&A and More
If you have any questions about QB Connect or QuickBooks Online, join me and Chris Repetto (Intuit Director of Communication) in my Linkedin group this Thursday evening (before the early bird deadline on Friday, Aug. 15).  I'll start a QB Connect discussion and Chris and I will be watching from 8:00 to 8:30 PM EST on Thursday, August 14.   As you post your questions anytime during this time, we'll answer them in real-time, just like in a "normal" Q&A – the only difference is that this one is all done in Linkedin on the discussion in written form.
Please let me know if you have questions. Looking forward to seeing you at this Q&A and to learning more about QuickBooks Online and QuickBooks Connect!
I hope to see you in San Jose at QuickBooks Connect!  I'll be announcing a meeting spot where we can meet in person during the conference too!  Don't wait – register now and make plans to attend!