We are very excited to share the news that QuickBooks® Online (QBO) Advanced Certification is coming to the QuickBooks ProAdvisor® Program! The exam won't be available until November 5, but you can take the prep course and get access to the exam a full two weeks ahead of everyone else by coming to Intuit's QuickBooks Connect event, Oct. 21-21, in San Jose, CA.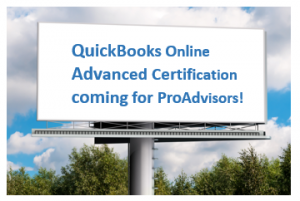 The QBO Advanced Certification course offered exclusively at QuickBooks Connect, for the first time, will be taught by Michelle Long, one of the most influential, well-known and respected accounting professionals in the industry. Michelle's QBO Advanced Certification prep class is included in the cost to attend QuickBooks Connect. Registration for QuickBooks Connect is $169 through August 15. You can register for QuickBooks Connect at www.quickbooksconnect.com.
The course is a blend of scenario-based situations and complex problem solving using QuickBooks Online. After attending this powerful new course on QuickBooks Online you will be able to:
Manage complex conversions to QuickBooks Online
Handle in-depth customization of QuickBooks Online
Train your clients on the use of advanced features in QuickBooks Online
Troubleshoot common data entry errors clients make when using QuickBooks Online
Provide Advisory Services to those clients needing additional support
"I am thrilled to be teaching the QuickBooks Online Advanced Certification prep class at QuickBooks Connect," said Michelle, owner of Long for Success, a premier consulting firm specializing in QuickBooks consulting, business coaching and training. "Being able to differentiate ourselves as QuickBooks Online Advanced Certified ProAdvisors is a huge benefit for us as we grow our practices and take on more online clients. This advanced certification also demonstrates our expertise in QBO and helps us bring even more value to our clients as we help them transition and realize the benefits of online."
Not a QuickBooks ProAdvisor? You can join the QuickBooks Cloud ProAdvisor Program for FREE, prepare and take the QuickBooks Online certification exam at no cost in preparation for the advanced certification prep class in October! Being certified in QBO is a prerequisite for taking the QBO Advanced Certification exam. Luckily, there's plenty of time to become QBO certified before QuickBooks Connect.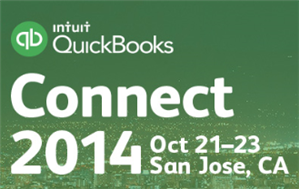 "Creating an advanced certification for QuickBooks Online is a win-win," said Luis Sanchez, worldwide leader of the QuickBooks ProAdvisor Program, which boasts more than 100,000 members globally.  "It provides ProAdvisors the opportunity to increase their expertise so they in turn can help their clients get the most out of their QuickBooks software, and it keeps our program moving into the future."
This new advanced certification will help ProAdvisors further differentiate themselves as a QuickBooks Online expert to their current and prospective small business clients. More than 600,000 companies and 1.5 million individuals subscribe to QuickBooks Online globally, making it the number one cloud accounting solution for small businesses.
Why Attend QuickBooks Connect?
At QuickBooks Connect, you'll meet the people, get the training, and learn the skills and technologies you need to take your practice to the cloud and better support your clients. You'll be the first to hear about big new product releases from Intuit® and major enhancements to the ProAdvisor program.
You'll learn techniques to sharpen your practice management skills, how to implement and benefit from value billing, employee and HR strategies, and social media, marketing and consulting strategies. You'll hear cutting edge presentations from world-renown accounting and small business thought leaders, including Joe Woodard, Ron Baker, Gary Boomer, Greg LaFollette and Edi Osborne.
You also will hear from Intuit's CEO Brad Smith and Founder Scott Cook; Arianna Huffington, editor-in-chief of theHuffington Post; and Marc Andreessen, inventor of the first web browser Netscape and investor in companies such as Digg, LinkedIn and Facebook.
All this while earning more than two dozen CPE credits and walking away with more knowledgeable about QuickBooks and Intuit's ecosystem of integrated products!
Register for QuickBooks Connect by going to www.quickbooksconnect.com. The cost to attend is $169 until August 15 and includes Michelle's live QBO Advanced Certification training class. After August 15, the cost to attend QuickBooks Connect is $199.
This post first appeared here:  http://blog.accountants.intuit.com/?p=34417