Do you want to learn more about QuickBooks?  Did you forget how to do something?  Would you like to learn about other areas of QuickBooks that you may not be using now?  People often ask where they can get QuickBooks training or learn more for free.  The good news is there are a couple of free resources available and you don't need a code, coupon or discount.
QuickBooks Learning Center
You can start within QuickBooks under the Help menu — click on Learning Center Tutorials.  There are short video tutorials to help you learn how to use QuickBooks.  Notice, at the bottom of the What's New section, there are links to download the free e-book QuickBooks — The Official Guide and PDFs of QuickBooks user guides.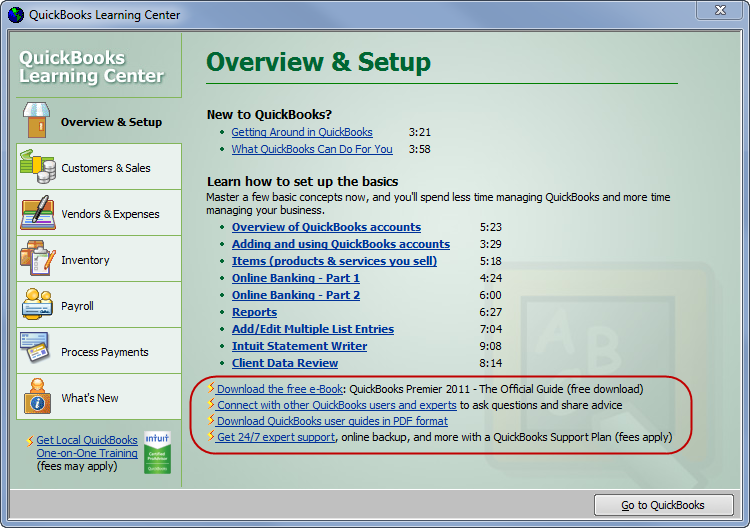 Intuit Academy
Intuit Academy offers numerous free courses (webinar and PDF course manual) to help accounting professionals, bookkeepers, tax professionals and others learn more about QuickBooks, Lacerte, ProSeries and other topics for free.  Many courses are eligible for free CPE if you need it too.  Click on the Training Catalog here to register and take the free courses.  A few of the QuickBooks courses include:
Common QuickBooks Mistakes Clients Make and How to Fix Them
Top 10 QuickBooks Tips and Tricks
Grow Your Practice with QuickBooks Online
Internal Controls for Small Businesses to Help Reduce the Risk of Fraud
Intuit Statement Writer 2011:  Your Financial Statement Solution
Learn What's New in 2011 from QuickBooks
Save More Time with Client Data Review 2011
Maximize your Reach as a ProAdvisor
Common Payroll Mistakes and How to Fix Them Using Intuit Payroll Solutions
and more
Sample Files
Use a sample file to practice entering transactions and using QuickBooks.  You can find the sample company files within QuickBooks — go to File > Close Company and you will see the No Company Open window.  On the lower right, click on Open a Sample Company File.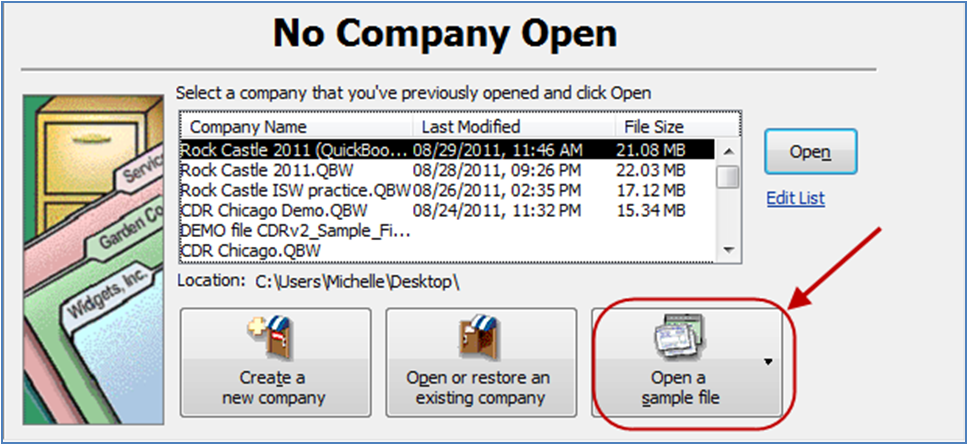 When you install QuickBooks Pro, there will be a sample product based business and a sample service based business.  With QuickBooks Premier, you will have other industry specific sample company files.  These files are great to use for practice.  You can backup the file to preserve the original sample file and restore it to a different name for practice.
Other Resources
Finally, don't forget to use Google when you need help — it is a great resource for free QuickBooks help or help with anything else!  A Google search will often provide links to questions and answers from Intuit Community Forums,  QuickBooks support pages, YouTube videos, blog posts and more.
There are several other training options available that are not free.  I recorded a comprehensive QuickBooks course (7.5 hours for 2012) which can be purchased for $99.  Click here to learn more, see the topics included and order.