QQube was selected as one of the 2012 Awesome Add-Ons by The Sleeter Group. The award signifies that QQube is among the most productive and effective technologies designed to enhance common business management systems, helping to increase productivity and efficiency.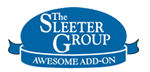 QQube is a data extraction technology that drastically reduces the time it takes to create or reports or data analysis. Drag and drop information directly into applications like Microsoft Excel, SAP Crystal Reports, or Microsoft Access; use as a plug-in for Microsoft Reporting Services, Power Pivot Tables, SQL Server, Share Point, Open Office, or BI tools like SAP Crystal Interactive Analysis or SAP Crystal Dashboard Design.
As the nation's largest network of small business technology consultants, The Sleeter Group has members throughout the United States, Canada and the Caribbean. The awards were formally announced on November 7 at the 2011 Accounting Solutions Conference in Las Vegas, an annual event that draws hundreds of accountants, bookkeepers, consultants, and IT professionals, providing them with educational opportunities presented by industry experts, thought leaders and technology developers.
"It's more important than ever for businesses and professional practices to find technologies and services that help them be more efficient and productive," said Doug Sleeter, the founder and president of The Sleeter Group. "QQube was selected as one of this year's Awesome Add-Ons because it gives users easy access to QuickBooks data without spending days, weeks, or even months learning about tables, relationships, or having to reverse engineer the QuickBooks database components."

"QQube is a powerful technology that handles subjects like sales and purchasing analysis, consumption based inventory forecasting, BOM explosion, advanced job costing methdologies, composite dashboarding, payroll reconciliation, General Ledger with side-by-side cash and accrual, and aggregate financial and sales reporting for organizations with dozens of companies. The only limits are within the application that the user chooses to manipulate the data."
Technologies receiving the Awesome Add-Ons recognition are vetted by The Sleeter Group's consultants to ensure that they meet the highest standards of design, ease-of-use, and conformance with appropriate accounting and security standards.