Are you a CPA, accountant, bookkeeper, QuickBooks ProAdvisor or tax professional?  Do you want to start your own business?  Are ready to go on your own but are a little nervous? Have you recently started your own practice but need help with marketing ideas or other areas?  How to Start a Home-Based Bookkeeping Business has everything you need to know to start and run a profitable and satisfying business from your home.
How to Start a Home Based Bookkeeping Business is a comprehensive guide which takes you through every aspect of setting up and running a thriving home-based bookkeeping business, from estimating your start-up costs and finding clients to being on top of financial considerations, establishing an online presence, and staying profitable.  Whether you're just starting to learn the trade or are an experienced accountant or bookkeeper looking to be your own boss, this guide will help you build your own successful business.
Look for useful charts and worksheets throughout the book, including: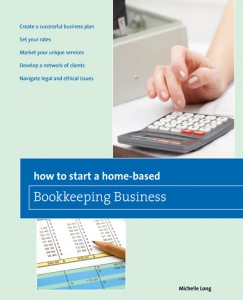 Home Office Checklist
New Entity Setup Checklist
Business Entity Selection Guide
Create Your Own Mailing or Contact Lists
Sample Engagement Letters
Sample Business Plan with Industry Statistics
Questions to ask New or Potential Clients
Client Setup Checklist for QuickBooks Setups
Guidance on Setting Billing Rates and Policies (an Average Billing Rates)
and much more
How to Start a Home-Based Bookkeeping Business is now available on Amazon and should be in local book stores soon!  Note:  The official publication date is June 1 so the Amazon Search Inside, complete description and other features should be working and completed soon.
Another GREAT offer to help you start your business — $100 off ProAdvisor Membership for NEW ProAdvisors!  I do not remember EVER seeing the ProAdvisor Program discounted this much!  It's only available May 17 through May 31.
UPDATE:  Wow!  Thanks to everyone who ordered my new book!  Check this out: