If you have been waiting to join the ProAdvisor Program, NOW is the time to join!  Very rarely do you see a discount on the ProAdvisor Program — especially $100 off  (for NEW ProAdvisors only).  For accountants, bookkeepers, QuickBooks consultants, some tax professionals and IT consultants who work with clients using QuickBooks, I highly recommend joining the ProAdvisor Program.  Read this blog post about why I recommend joining the ProAdvisor Program and all the benefits it offers.  The number and code are in the image below.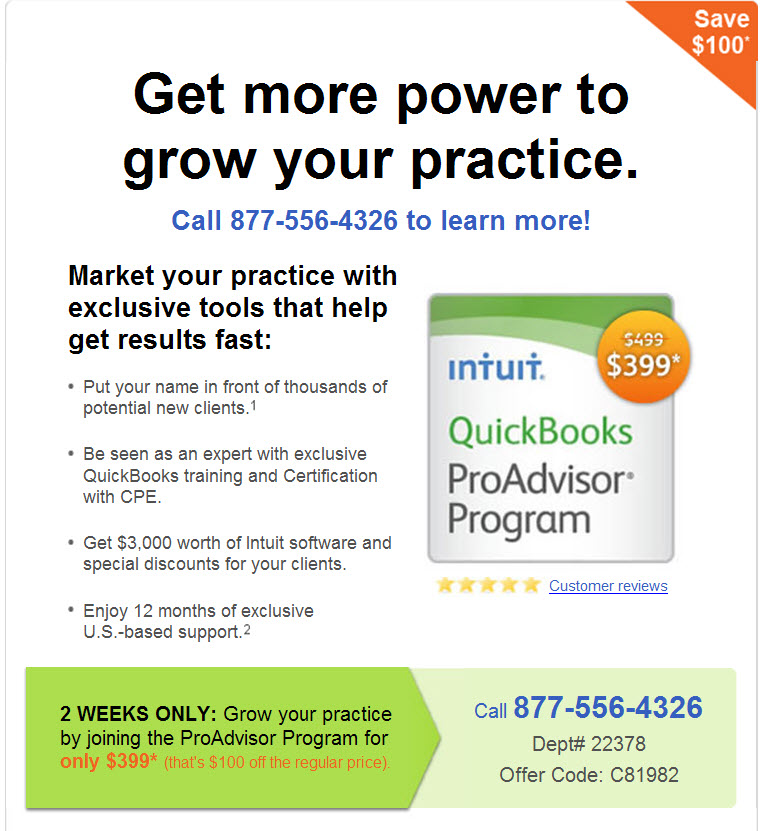 Other Resources
Check out my new book How to Start a Home-Based Bookkeeping Business — this blog post has more details.  Check out my first book Successful QuickBooks Consulting:  The Comprehensive Guide to Start and Growing Your Own QuickBooks Consulting Business too.
Several free webinars, podcasts and more here — including a webinar on Effective Marketing for Accounting Professionals, Preparing for QuickBooks Certification and more.
Numerous links to websites and free resources to help you start and grow your business here.