Welcome QuickBooks 2012 — there are some really great new features this year for QuickBooks users and accounting professionals! I am honored and excited to be one of the trainers again this year for Intuit Academy to help you Learn What's New in 2012.  I hope you will join us to learn what's new and see the new time saving features for you and your clients.
What's New from Intuit 2012 – Virtual Conference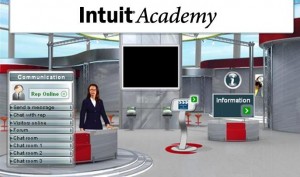 From the comfort of your office, join me and others in the NEW Intuit Accountants Connection Center for access to me and the other presenters, Intuit product experts and your peers.  You can participate in robust training courses loaded with options to help you focus on the training that matters to you most – and earn free CPE.  Don't miss out on the scheduled chats, networking opportunities and resources available to save you time.
Register to join us October 25 & 26 and view the agenda and schedule here.
Live Online Training Webinars
Live training from the convenience of your desk. There are numerous live webinars offered multiple times so you can select the training you would like to attend.
I would love to have you join me — I'm presenting the first two sessions listed here (other excellent trainers are doing the same sessions at different times too).
What's New in QuickBooks 2012 for You and Your Clients — Tuesday, Nov.1 at 2 pm CST (2 hours CPE)
What's New in QuickBooks Accountant 2012 — Wednesday, Nov. 2 at 2 pm CST (1 hour CPE)
Find & Fix Client Data Errors Faster
Save Time Creating & Customizing Statements
Payroll for Today's Accounting Professional
Intuit Payment Solutions
Taking your Practice to the Next Level
Optimizing your Tax Workflow

Register to attend the live online training webinars and view the course details here.
Live Face to Face Training — Details coming soon!
Training from your peers and associations in various locations.  Sign up to be notified on training dates here.
I'm working with Johnson County Community College Small Business Development Center (JCCC-SBDC) to offer a live What's New Event on their campus in Overland Park, Kansas.  Stay tuned — I'll post details when available.
Win QuickBooks 2012 Free
Subscribe to this blog and you could win QuickBooks 2012 FREE in the contest / give-away!  Details here.