Unfortunately Intuit "executed a planned maintenance over the weekend and ran into some issues."  Monday the servers were experiencing outages or delays in processing and users are reporting problems this morning (Tuesday) too.  Affected services appear to include Merchant Services (processing credit cards), QuickBooks Online (slow or offline), emailing invoices,estimates. etc.  from QuickBooks and possibly other online services.  Check Intuit's Facebook page for updates.
Update from Intuit:
11/15/2011 at 08:53AM PST
As part of our efforts to improve service and increase uptime, we did maintenance work over the weekend which caused issues with several of our systems on Monday, November 14. We are experiencing the same issues today and in order to fix it have decided to take services including QuickBooks Online, QuickBooks Online Payroll, QuickBooks Connected Services, QuickBooks payments processing and GoPayment and all other payment processing services offline until at least 12:00 p.m. PST. No data has been lost! Click here for alternate payment processing resources.
Alternatives when Online Services are Offline
Emailing

In QuickBooks 2011 or 2012, you can use Webmail (Gmail, Yahoo or other email services).  Go to Edit > Preferences > Send Forms > My Preferences to set it up.
In the Invoice (or Estimate or whatever you want to email), go to File>Save as PDF or download CutePDF Free (www.cutepdf.com) and print to PDF.  Then, use another email service (outside of QuickBooks like Gmail) to send an email and attach the PDF to it.

Payroll — It isn't clear if there are problems with payroll or not.  However, if there are problems,  you can use a free Paycheck calculator  or the Circular E (www.irs.gov) to calculate paychecks manually.  You may need to issue manual checks instead of direct deposit.  Then, you can enter it in QuickBooks later.  If you use Assisted Payroll, call them to see how they want you to handle it.
Credit Cards— Obtain voice authorization — you will need the authorization code from the voice authorization and the customer's card number and expiration date to complete the transaction. Call to get an approval code:
Visa Visa/ MasterCard /Disc ACQ/Amex one point: 800-228-1122
American Express 800-528-2121
Discover 800-347-1111
An Intuit employee (Guru) posted this on the Intuit Community Forum:
You could record the card information using a manual card imprinter (knucklebuster) or other manual process.  Then when services are back up you can key them in at www.merchantcenter.intuit.comwhich you would have to do in the case of getting a voice authorization as well.The reason for getting a voice authorization is to guarantee the card is valid and credit is available on the card before the customer walks away with products or services.
Remain Professional
Last week I attended The Sleeter Group's Accounting Solutions Conference in Las Vegas at The Cosmopolitan Hotel.   The Cosmopolitan is very 'techie' — you can control the lights, wake up experience, etc. via the TV or Phone.  Sunday night they attempted a system update which didn't go as planned.  Monday and Tuesday we had no internet, TV or Phone services.  The hotel couldn't process credit cards or room charges in the restaurants or gift shops and the ATM machines didn't work either (not good for a casino).  However, hotel staff and management remained professional at all times.  The CEO and CIO spoke to conference attendees Wednesday morning to explain what happened.  Despite the extensive planning, testing and quality assurance prior to implementing the upgrade, a piece of hardware failed causing the outage.  When you're dealing with technology, sometimes things just do not go as planned.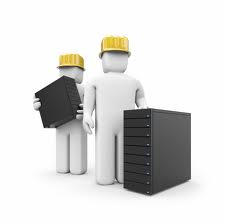 Keep in mind that any of us could be without power due to a severe thunderstorm, flood, tornado, fire, earthquake, hurricane, snow storm or a number of other problems.  It happens and as business owners we have to deal with things calmly and professionally.  Usually your customers, vendors and employees wiill understand the situation.  As small business owners, we need to have a backup plan of how to continue operating when an emergency strikes–whether it is a natural disaster or a failure in technology.  You may want to make sure you have 'business interruption insurance' that would cover losses in certain circumstances.
Intuit posted "Improving service reliability is a top company priority right now."  I certainly hope so for the sake of the small businesses which use and rely upon various Intuit services to operate their business.  Plus, accounting professionals who recommend Intuit services need to be able to trust the reliability and dependability of Intuit services.  The continued outages are challenging for us all.