I wanted to share some information with QuickBooks ProAdvisors based on many comments and discussions I've noticed in various groups and on social media.   Hopefully this will help save you some time and I'll share some tips that may help.  Plus, I share some other news and updates too.
First, I'm impressed with Intuit's investment and commitment to accounting professionals.  They continually listen to us and invest in training and tools specifically to help us serve our clients.  However, with changes and improvements, sometimes there are some bumps along the way.  
Intuit is migrating / updating the ProAdvisor website and course locker.  As a result, many people are experiencing some problems or issues and Intuit is working on it.  Some problems I'm seeing people mention and some tips that might help include:
Certification exams not working / loading properly
Make sure you're using a recommended browser
Enable/allow pop-ups
Clear the cache & cookies
Login via incognito (or private) mode
After passing a certification, it's not showing you passed 
Wait at least a few days before contacting support (and using chat for support may be faster than calling)
Always take a screen shot of your test scores so if there is a problem you can provide proof for support to fix it
Find a ProAdvisor website — people can't add a review at this time and some other issues
Check

and update your profile periodically to confirm you are still listed and things are accurate
Keep in mind, Intuit is trying to make things better for us and they are working on it.
QuickBooks Online  (QBO) Advanced Certification
I've seen many comments, complaints and feedback about the new QBO Advanced certification and  I agree about the need for partial credit and problems with some questions.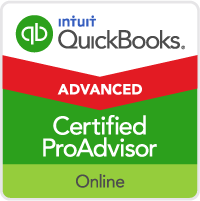 Intuit is listening and there will be some changes and modifications to the QBO Advanced Certification exam.   If you want to work on the Advanced certification, you can go through the training guide and recordings to learn the material and prepare for the exam.  However, I suggest you do NOT submit answers for the exam until further notice.  If you want to look at or work on some of the questions, keep in mind they may or may not be revised or changed.  Thus, you may just want to focus on the training materials and not spend time on the questions right now.
QB Power Hour
Keep up to date with news, announcements,  advanced discussions about QuickBooks desktop, QuickBooks Online, 3rd party apps and resources to help you grow your practice and more!  The webinars are free and you can earn 1 hour of free CPE too.  Register and join me (Michelle Long) and Hector Garcia for QB Power Hour webinars.  http://QBPowerHour.com
Not a ProAdvisor Yet?
Why not?  It's FREE to join the ProAdvisor Program and the QuickBooks Online certification and training are FREE too!
If you want the desktop software, training, certification and support, there is a monthly payment option available.  Details here:  http://proadvisor.intuit.com