Do you want to learn how easy it is to create pivot tables in Excel?  Would you like to learn how to use pivot tables for Job Costing?  If so, then join Chuck Vigeant, M.Ed. (creator of QQube™ and founder of CLEARIFY℠) as he teaches you the simple components of working with pivot tables, while demonstrating that pivot tables are NOT hard to use.  He will use several frequently requested, real world QuickBooks examples. 
Chuck presented this webinar last week but there were some technical difficulties so it was not recorded.  As a result, he has offered to do it again!  There are two parts in the FREE webinar so you can attend the entire webinar or part of it (you only need to register once).  There will be a small break in between around the top of the hour.
Sample Files for the Webinar
You may want to follow along using the sample Excel files Chuck will use during the webinar.  You will need Excel on your computer and it is recommended that you have two monitors (or one large monitor) to be able to see the webinar and your Excel sample file at the same time.  To get the sample files for the webinar:
Register for the CLEARIFY community: http://community.clearify.com/spaces/18/learning-center
Download the sample files here.
Introduction to Pivot Tables
The pivot table is the most underutilized data analysis and reporting tool, yet it comes free with the most widely used spreadsheet known to mankind – Excel.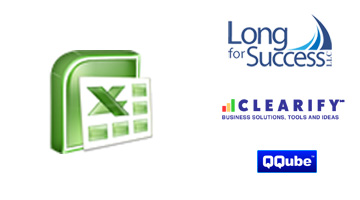 What you will learn:
Advantages and disadvantages
Requirements
Two steps to create a pivot table
Pivot table options
Using Pivot Tables for Job Costing



In minutes you can create reports for cost to complete, over/under, bonding – or analyze employee costs and overtime trends.
You will learn how to:
Create a simple job cost report in less than 5 minutes
Add calculations to a pivot table e.g.  % complete, earned revenue
Analyze job hours
Filter jobs by project manager, job status, job end dates
Space is limited, register now!
See above for info on how to register and obtain the sample Excel files prior to the webinar.
This free webinar is a thank you to my subscribers, Linkedin group members and other followers.  I appreciate you all!  Thank you Chuck Vigeant for helping us learn about pivot tables!