Finance departments across the U.S. brace for holiday rush as expense report volume doubles on December 19th
Redmond, Wash., December 17, 2012 – As many employees get ready for their holiday break, company accountants are bracing for one of the most chaotic and costly times of the year.  Concur (NASDAQ: CNQR), a leading provider of integrated travel and expense management solutions, identified December 19th as the busiest day for submitting expense reports in the U.S last year*.  For the vast majority of businesses that haven't yet automated the expense reporting process, this means a tidal wave of T&E reimbursement requests overwhelming manual and paper-based expense reporting process.  It also has an impact on a company's cash-flow and underscores a huge cost disparity between manual and automated processes. 
A recent report by Aberdeen Group found that it costs the average U.S. company approximately $18 to process each expense report. This same study found that the cost drops below $8 per report in "best-practice" companies that have automated the process. Based on these findings and internal data, Concur estimates that U.S. companies are wasting more than $2 billion annually as a result of these inefficient manual processes. Companies interested in addressing this issue can learn more here.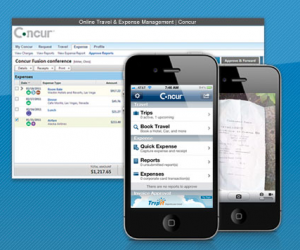 As the year comes to a close and the holidays approach, employees are eager to wrap up unfinished business and receive reimbursement for out of pocket expenses. While increases in client and staff entertainment spending contribute to the holiday season surge in expense claim activity, many employees also wait until the last minute to claim expenses for business trips taken earlier in the year.
The impact of this tremendous spike in activity on U.S. businesses includes lost productivity from employees filing and processing their reports manually along with an unanticipated surge of dollars flowing out of their businesses. While employees are rushing to file their expense reports, accountants and finance departments are under pressure to process the large transaction volume ahead of the holiday season in advance of year end. The result is an end-of-year spike in expense report volume that is almost as predictable as the winter solstice. Unfortunately, the many businesses that have yet to automate this process lack proper visibility into their T&E spend and could be caught unaware of the coming onslaught of requests from employees for reimbursement.
"We anticipate a high level of expense report activity in the December timeframe," said Scott Schitter corporate director, tax and financial compliance for the Catholic Healthcare partners. "With Concur, we no longer shuffle papers between approvers, and have insight into tracking and monitoring expenses because corporate card charges are directly imported into our expense reports for a more complete process. This enables us to streamline this busy season and get our employees their money much faster with less work."
"Whether it's closing out of a calendar year or a fiscal year, the last thing a finance department should be worrying about is shuffling paper and locating lost receipts," said Mike Hilton, executive vice president for Concur. "We process more expense reports that any other company in the world, so we are equipped to help minimize the impact to the business and ensure deadlines are met. Concur's cloud-based services help corporate clients streamline their entire travel and expense reporting process, while our mobile app helps their employees quickly and easily capture expenses and receipts and submit expense claims from anywhere."
Guidance for Surviving the Expense Report Dash
Together with Concur, savvy accounting teams are now providing a few tips to help alleviate the additional burden to the finance department during this busy time of year, including:
Send out company-wide reminder emails to submit expenses on time.
Provide Concur training videos or create a Webinar for how to submit and/or approve an expense report.
Ensure the expense report is complete by making sure required receipts are included and adhering to policies– an incomplete expense report can create more review cycles and increase the time it takes for the submitter to be reimbursed.
Leverage mobile technology to capture digital images of receipts and submit expense reports. Managers can also access expense reports in order to approve or reject right from their device. The advancements of mobile technology empower employees to capture pictures of receipts with a smartphone and attach them to expense reports. In addition, Concur sees more and more clients leverage the smartphone to submit expense reports (67 percent increase) and approve (53 percent growth) reports on the road.
* Based on Concur's expense report data from December 19, 2011
Join Michelle for FREE Webinar:  Add Profits to Your Practice with Concur
Wake up your profits by offering Concur to existing or new clients.  Concur is an add-on cloud service that makes expense management simple.  We'll share practical steps, tips, and useful resources to help you plan and roll-out this additional revenue stream and consulting opportunity for your business.  You will see a brief live demonstration of Concur to better understand its use and power and learn about the Concur Advisor Program.
When:  January 8, 2013, 1:00 – 2:00 Central Time
Register free here:  https://www3.gotomeeting.com/register/564625302
It will be recorded so if you cannot attend, go ahead and register so you will get the link to the recording in the follow up email.