QuickBooks Online Accountant (QBOA) is designed for accountants, bookkeepers and others who work with multiple clients.  It helps improve our efficiency when working with multiple clients.  One of the benefits is a QuickBooks Online Plus subscription as 'Your Books' in QBOA.
Ideally, you will use it to maintain your own firm's books.  Initially, this is a great way for you to practice and get familiar with using QuickBooks Online (QBO) using your own data.  You can convert your QuickBooks desktop file into Your Books quickly.  Then, set up your bank feeds and start working with it for more experience.  If you want to, you could continue using your desktop file (running them in parallel) while you are playing around and getting more experience with QuickBooks Online.  Then, when you are ready to convert your latest file to Your Books, you can -re-convert for up to 1060 days for companies without payroll (check with ProAdvisor support for details).  It will replace whatever was in Your Books.
When people learn about the ability to re-convert into Your Books for so long, they may be tempted to use Your Books for testing or as a playground for client files.  In fact, there was a recent blog post / article that suggested using Your Books to test setting up clients and integrating 3rd party apps.  According to that article:
"Testing the App in your QuickBooks Online Accountant 'Your Books' lets you connect an App without the client watching, thus giving you the opportunity to become an expert and provide them with a tested solution. Another benefit is that you can upload a specific situation, or set of books, and test how the App will work inside a controlled environment and monitor the books for a trial period."
 I DO NOT recommend this! 
The Customers in Your Books syncs with the Client list on your QuickBooks Online Accountant (QBOA) dashboard.  When you add a new customer into Your Books, they will appear as a client on your QBOA dashboard (as shown in the image below).  Thus, if you are playing around with your client's data, then you'll see their customers on your QBOA dashboard!  This is probably NOT want you want to happen!
Similarly, some people ask if they can use Your Books for a client.  Again, the customers of your client would appear on your QBOA client dashboard so this is not recommended either.

Sample Company / Test Drive
Remember you can use the sample company or test drive as much as you want and your clients can use it as well.  It contains a sample company with data, downloaded transactions and more.  It is a great way for you or your clients to play with QuickBooks Online and get more experience, test out how it works and more.  Nothing is saved in it so every time you login, it is re-set.  Your clients (or you) can login via this link:  http://qbo.intuit.com/redir/testdrive or just Google QuickBooks test drive for the link.  If you want access to the Accountants tools, then you should open the sample company via QBOA as shown in the image below.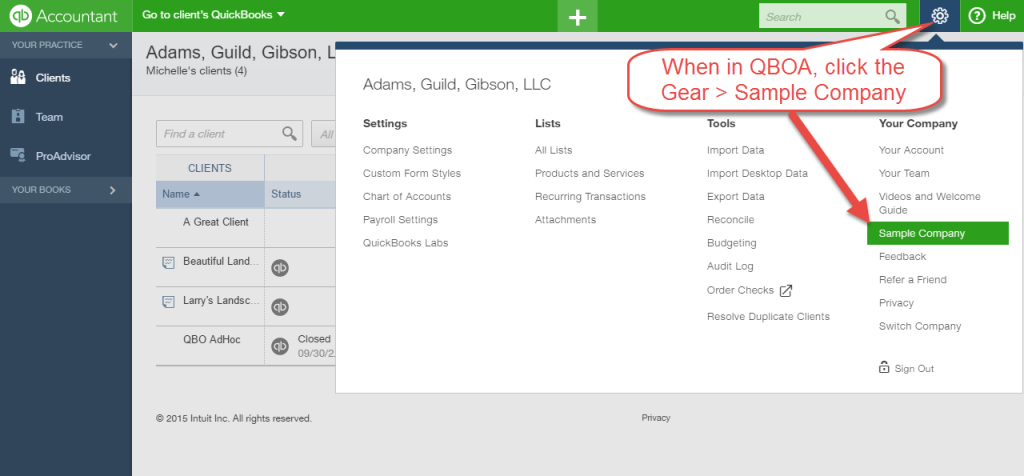 I hope this QuickBooks Tip has been helpful for you!  Please share it with others!