Do you need a QuickBooks file with just a certain year of data?  Did the IRS request your QuickBooks file for an audit? Do you need a specific period copy of the QuickBooks file for legal or other purposes? Is the file too large or approaching list limits in QuickBooks Pro or Premier? Previously these situations required using third party programs or paying someone to create a new QuickBooks file.  Now, QuickBooks Accountant 2012 and QuickBooks Enterprise Accountant 12.0 allow you to create a Period Copy for a specific date range.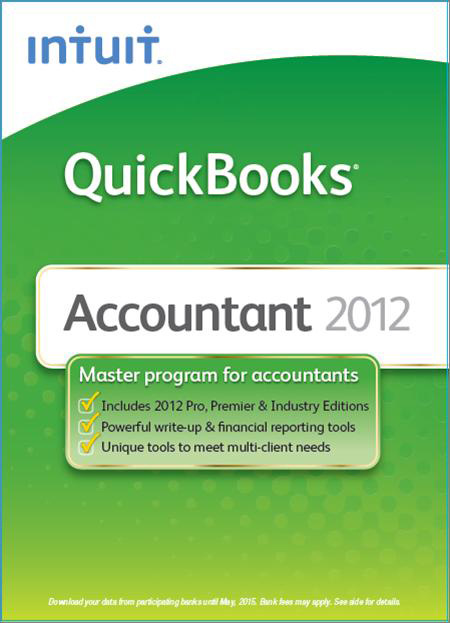 The Period Copy is just one of the great new features in QuickBooks 2012.  Please subscribe to this blog for more details about specific new  features for QuickBooks Pro, QuickBooks Premier, QuickBooks Accountant, QuickBooks for Mac, QuickBooks Enterprise, Salesforce for QuickBooks and more in upcoming blog posts.
Note:  The Period Copy feature is available in QuickBooks Accountant 2012 and QuickBooks Enterprise Accountant 2012 only.  It is not available in QuickBooks Pro, QuickBooks Premier, QuickBooks for Mac or QuickBooks Online.  This feature is new and I'm still using the beta version of QuickBooks 2012 for testing. Please share your comments and observations in the comments to this blog post.
QuickBooks Accountant 2012 Period Copy

Creating a Period Copy of QuickBooks files is a great new feature which accountants, bookkeepers, ProAdvisors and others will really use and appreciate.  Accounting professionals can use it to provide new services and improve profitability.  Using the Period Copy feature you can create a new file when faced with the following situations:
IRS or other audit
Large file size
Issues with the list limits of QuickBooks Pro or Premier
Selling a business
Creating a new business entity
Divorce situations
Other legal disputes
To create a Period Copy, go to File > Utilities > Condense or on the menu bar Accountant > Condense Data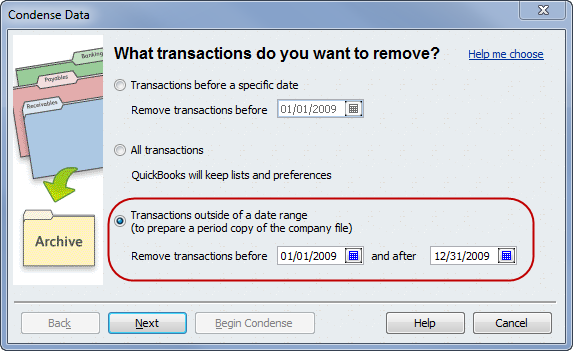 Indicate how to summarize the transactions in the new QuickBooks file.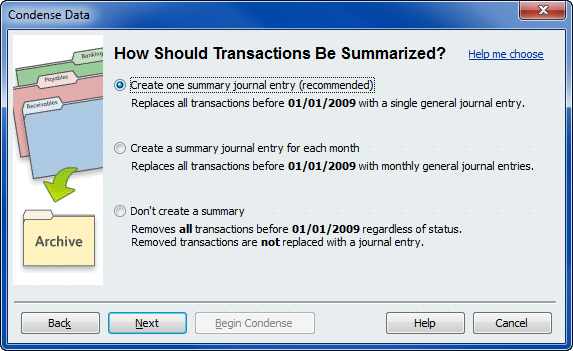 If there is inventory in the file, you select how inventory should be condensed — either summarize inventory transactions or keep inventory transaction details (which limits the number of transactions that can be removed).
Next you can choose to remove uncleared transactions, transactions marked 'to be printed' or 'to be sent and others.  To clean up the lists (especially if they are approaching the list limits in QuickBooks Pro or Premier), you can choose to remove unused list entries.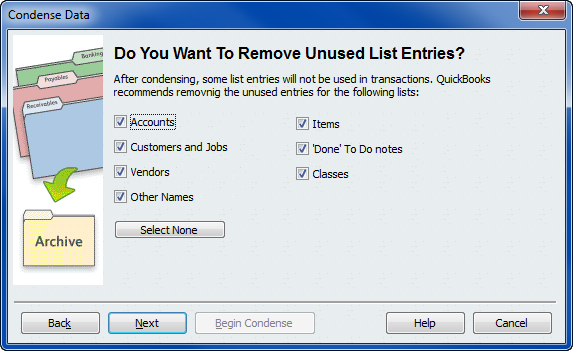 Then, QuickBooks will begin the process to remove transactions and other items to create a new copy of the file for the period indicated.   This can take some time depending on the size of the data file.  When completed, there will be two files — an archive copy of the old data file and a new, smaller file for the period indicated.
Note:  The audit trail detail is removed for the condensed transactions (based on the period specified).  The audit trail remains intact for the transactions remaining in the Period Copy file.
Reducing File Size or List Limits
I have tested the Period Copy on a couple of files and it does a GREAT job of reducing the file size.  On one file with inventory, I had these results:
File Size — 83% reduction in file size (from 481 K to 83K)

Total Names — 68% reduction

Total Items — 12% reduction (i

f the file has inventory, read the Help for details on how inventory is condensed and the options).
I think the new Period Copy feature is great!  Many people have been using QuickBooks for a long time and the files are getting large and slowing down performance.  With the Period Copy, it is easy to create a new, smaller file.  However, the new file will require updating to QuickBooks 2012.  (Note:  You need QuickBooks Accountant 2012 to create the new file, but then it can be opened with QuickBooks Pro 2012 or any other edition of QuickBooks Premier 2012. )
QuickBooks File Service
If you want a new file created but you do not want to purchase QuickBooks Accountant 2012 and do it yourself, we can help.  You purchase QuickBooks Pro 2012 (or another Edition of 2012) and we can create the new file for you.  See Data File Services for details.  Follow me on Facebook, Linkedin or Twitter to learn about sales and deals on QuickBooks 2012.  There are usually some great prices from Amazon, Sam's Club, Costco, BJ's, Office Depot, Staples, etc.
IRS Position for QuickBooks Files
The QuickBooks Period Copy appears to meet the requirements of the IRS requests for the QuickBooks data file during an audit.  The Internal Revenue Service (IRS) recently updated (9/8/2011) the Use of Electronic Accounting Software Records; Frequently Asked Questions & Answers.  Question #13 indicates that a company file may have prior year data condensed.  This is from the IRS:
 Q13. Can a taxpayer or representative condense or "clean up" the electronic accounting software data file before submission?
A: Many accounting software programs will condense old, closed transactions occurring prior to a manually selected date. For example, the closing of a prior year. Often this is done to reduce the size of the company data file. The process essentially removes the details of those transactions from the data file and replaces them with summary journal entries, allowing monthly financial statements to be created for old years if needed.
The ongoing data file (working file) will no longer have the details of old, closed transactions which occurred prior to the manually selected date. However, during the condensing process, the software creates a backup or archive copy of the company data file and this archive copy provides the original detailed records of each old transaction. If you do not have a complete understanding of your software's condensing feature, please contact your software provider for additional guidance before using it.
Condensed data is not acceptable for the tax year(s) under audit. However, if you choose, the company data file can be condensed (through the clean up or purge feature) for dates prior to the year(s) under audit, as long as they do not include transactions created or changed for time periods under audit, or for transactions from prior years that have an effect on the years under audit.
If the scope of an audit is expanded, the IRS may request another backup file that was created prior to the date the company file was condensed or request a copy of the archive file created during the condensing process.
DISCLAIMER:  This blog post is not intended to provide professional accounting, legal or tax advice and is intended for information purposes only.  Since it is so new, I cannot say for sure what the IRS position will be regarding a file created using the new Period Copy feature.