Thank you to everyone who subscribed, joined, commented and posted to enter the $8,000 QuickBooks Giveaway!  Special thanks to Intuit for providing the prizes for free!  In the end there were a lot of entries and winners were selected using a random number generator.   
I hope many of you agree with this comment "the contest prize is really in reading all the comments and learning! I won already!" Boy, did that make me feel good – thanks Mary Ann!  I included the posts about Client Data Review, Keys to Success and Tools for Success in the contest hoping that everyone would share and benefit from the comments of others.  Thank you to everyone for sharing your experience and expertise with us!  I hope you will continue to comment and share!
The winners are:
QuickBooks Enterprise Solutions 11.0 (5 users) ($3,000 MSRP)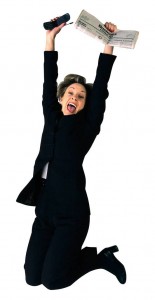 ProAdvisor membership w/ Enhanced Payroll for Accountants ($674 MSRP)
QuickBooks Accountant 2011 ($399 MSRP)
QuickBooks Premier 2011 ($399 MSRP)
QuickBooks 2011 for Mac 2011–Multi-user ($599 MSRP)
Again — thanks to everyone and especially Intuit for providing the prizes!