The Freedom in the Cloud events helped accounting professionals learn about the benefits of working in the cloud, the Cloud ProAdvisor Program, the new QuickBooks Online and more.  Now, Intuit Academy is sponsoring the Success in the Cloud webinar series with Michelle Long to help accounting professionals take it to the next level.  
QuickBooks Online continues to grow with a 30% increase in users for the past quarter.  This presents an opportunity for CPAs, accountants, bookkeepers and ProAdvisors to help small businesses move their accounting to the cloud.  QuickBooks Online is the #1 cloud accounting solution for small business and accountants worldwide, with more than 561,000 paid subscribers and over 1.5 million users as of February 2014.
Plus, Intuit has recently implemented wholesale pricing for accounting professionals, an updated QuickBooks Online for Accountants and more.   Register or these free webinars while space is still available!
Value Pricing – A New Way to Run Your Practice
This course will help you understand value pricing as opposed to value billing or hourly billing.  We will discuss the benefits of value pricing for accounting professionals and their clients.  Learn about the trends and relevant results from Intuit's 2013 Average Billing Rate Survey.  Discover how to create packages of your services and determine price levels.  We will discuss wholesale pricing for QuickBooks Online and how to incorporate it into your packages and pricing.  Learn how to identify initial clients to convert to value pricing, the importance of a clearly defined engagement letter and how to implement, monitor and evaluate the results.
March 19th –  https://attendee.gotowebinar.com/register/5453024976005416961
 Determining Which QuickBooks Online is Right for My Clients
The first step is determining the needs of the client.  Learn about questions to ask clients to help determine their current and future needs.  Next, we'll discuss the different versions of QBO and the features they offer.  Discover apps that are available to expand the features and functionality of QBO.  Plus, identify when QBO may not be the right answer.
April 9th – https://attendee.gotowebinar.com/register/2877824708129802242
Converting to QuickBooks Online:  What to Expect
Once you are ready to convert from QB desktop to QuickBooks Online you will want to make sure you follow the best practices.  Discover what you should do prior to converting the file and what data is not converted to QuickBooks Online.  We will discuss what to do if the desktop file is messy or not suitable for conversion.  Learn about the reports and data to verify after the conversion to verify the information was converted properly.  Also, understand details about how to re-uploaded or 'do-over' the conversion when needed.
April 16th — https://attendee.gotowebinar.com/register/8862266386778162433
Common Mistakes in QuickBooks Online and How to Fix Them
Unfortunately, many people make mistakes in QuickBooks Online.   Learn about some of the most common mistakes and how to fix them.  We will cover list errors (chart of accounts, customers, vendors and the products/services list), problems with undeposited funds, bank deposits and more.
April 23rd –  https://attendee.gotowebinar.com/register/5948659529217755649
Freedom in the Cloud — Canada and US
If you missed the Freedom in the Cloud events, join me for this condensed version to learn about cloud vs. hosting, benefits of working in the cloud, difference between QuickBooks desktop (Pro / Premier) and QuickBooks Online, demos of the new QuickBooks Online / QB Online Accountant and the new Cloud ProAdvisor Program.
March 19 —  https://attendee.gotowebinar.com/register/3187595615584476161 
March 26 — https://attendee.gotowebinar.com/register/3229394649626020353
APPify the Processes Webinars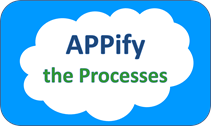 Learn about 3rd Party Apps that integrate with QuickBooks Online with this upcoming webinar series.  We are in the process of selecting apps to feature in this webinar series starting in May.  Each webinar we will discuss the benefits of the app, who it is right for, training and support, and partner programs or specials available for accounting professionals.  Subscribe to this blog for details and to register.
P.S.  Do you want us to consider featuring your app during this webinar series?  Contact us to discuss the possibility of including you as one of the sponsors for this webinar series.
 Award Winning Ultimate Accounting vCon

Join hundreds of CPAs, accountants and bookkeepers for the 3rd Annual Ultimate Accounting vCon.  This is a high-content accounting conference with a price tag you won't believe!  The award winning Ultimate Accounting vCon is a 2-day (July 24-25) virtual conference you won't want to miss.  Click here for details and to register.
P.S.  We still have some sponsor opportunities available for the vCon.  Contact us if you're interested.
Register for the Success in the Cloud webinars now and I will 'see' you soon!
To your success!
Michelle