Frequently accounting professionals will ask questions like: What should I be charging for my services? What is the average billing rate for bookkeepers? Certified QuickBooks ProAdvisors? Accountants? Certified Public Accountants (CPAs)? Enrolled Agents (EAs)? Tax Professionals? Should I charge an hourly rate or fixed fees? Unfortunately, the answer is usually — it depends. There is no 'one size fits all' when it comes to billing rates for accounting professionals. It depends on your education, experience, expertise, geographic location and more. The good news is that there is information available to help you get an idea of average billing rates to help you determine and set your billing rates and policies.
I put a quick poll on my website asking accounting professionals for their most common billing rates. Here are the results based on almost 1,000 replies: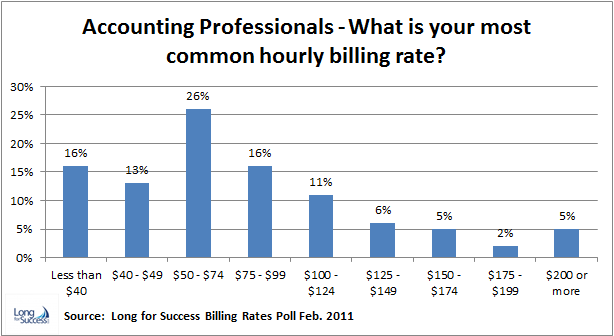 For more detailed information on average billing rates for accounting professionals, check out these resources:
Remember billing rates should be established based on a number of criteria and considerations. Keep in mind the value of your education, experience, skills and more. Please do not set your billing rates too low. It may be tempting when you are new to the profession or just starting your business or whatever, but it devalues your services and does not help you get quality clients.