When using QuickBooks with Windows 8, many people experience PDF related problems like emailing forms, previous bank reconciliation reports or saving as PDF.  Only QuickBooks 2013 with R4 update or newer is supported with Windows 8 and you shouldn't have these problems.  If you have PDF related problems using QuickBooks with Windows 8, it is often resolved by following these steps (thanks to Arvind from Intuit Tech Support):
1. Download and extract the Windows 7 XPS document writer printer drivers containing folder from here Microsoft XPS Document Writer Click File and Download.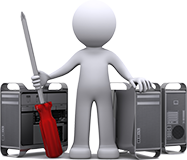 2. Copy and paste this folder to C Drive\Windows\System32.
3. Open Devices and Printers using Windows key+ R  to get the run box and type Control.exe Printers and press Enter.
4. Right Click Microsoft XPS Document Writer and Click Remove Device.
5. Click Add a new printer and Click on "A printer that wasn't listed"
6. Select "add local printer with manual settings" and Click next.
7. Select the radio button Create a new Port,Type of port Local port and Click next.
8. Enter a port as XPS and click ok.
9. Click have disk and Browse to the C Drive\Windows\System32\Microsoft XPS Document Writer
10.Select prnms001 file and click open and the ok.
11. Select replace Current drivers and next.
12. Type a printer name will show up as Microsoft XPS Document Writer just click next and Finish.
Test: Open Quickbooks and open any invoice and Click File and Save as PDF and save to the desktop and check if that invoice got saved as PDF.
I hope that helps resolve your PDF related issues!