QuickBooks FAQs:  I don't use Attached Documents so how can I remove the "Attach" column from the customer list?  How can I access information or a report on customers, vendors or employees quickly when I'm working with QuickBooks?  When working with QuickBooks, if you can access the information and details needed quickly, you can improve efficiency and productivity. 
In the last post, I showed you how to get a quick report on transactions (invoices, sales receipts, checks, etc.).  In this post, I'll show you how to get information about customers, vendors or employees quickly when working in QuickBooks.
First,  if you want to remove, hide or get rid of the Attach column (as shown below) in the Customer Center — in the Customer List, right click and select Customize Columns.  Then, on the right in the 'Chosen Columns' section, double click on Attach (or click on it and click the Remove button).  You can do the same thing in the Vendor or Employee Centers too.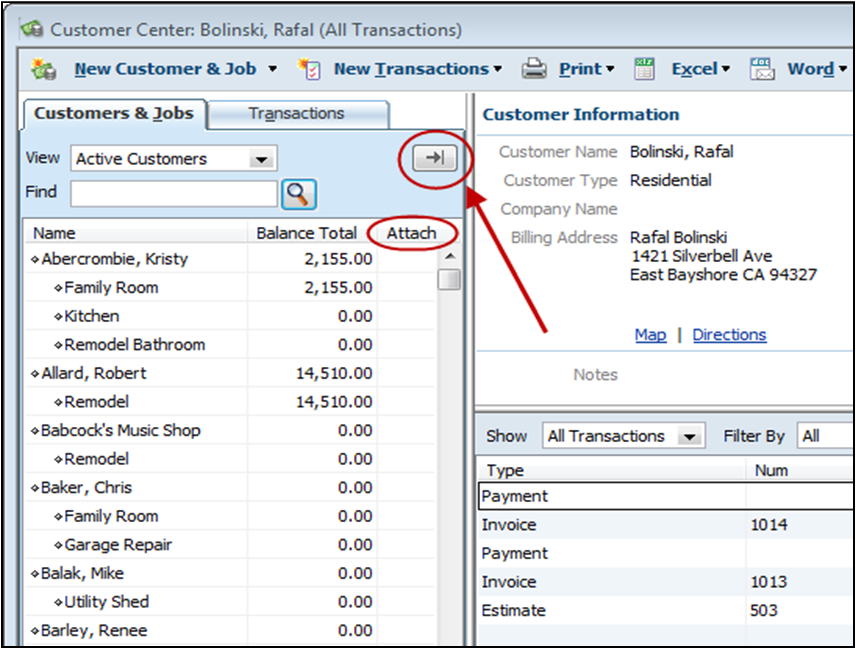 Next, when using QuickBooks, sometimes you want to quickly see information on customers (vendors or employees).   In the Customer Center, click the arrow as shown above.  This will expand the customer list.  Then, right click to  select Customize Columns to add/remove columns and arrange them in the preferred order.  To return to the normal view of the Customer Center, just click the arrow again (see below). Using this arrow to expand or collapse the customer list allows you to see details about customers quickly as you work with QuickBooks.

Is this new for you or have you used it before?  Will it help you when you are working in QuickBooks?  I hope so!