Intuit® does it again. Intuit Statement Writer (ISW) was already a great tool for accounting professionals and was named an Awesome Add–On last fall by The Sleeter Group. Now, with suggestions, requests and feedback from accounting professionals, Intuit makes ISW 2011 even better.
Since you can create a Balance Sheet, Income Statement and numerous other reports with QuickBooks® already, you may wonder why you need ISW. QuickBooks' standard reports often do not meet the needs of you or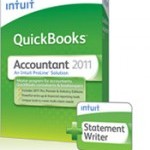 your clients. As a result, many accounting professionals export the report to Excel to make modifications and customizations to the report. If the data changes in QuickBooks, you have to export the report back to Excel and make the modifications and changes all over again. Plus, you have to do this for each client, each time. This is a very inefficient workflow.
You can work more efficiently and produce customized financial statements and reports faster than ever. Using ISW allows you to create custom statements and reports only once – and then you can reuse them for future periods or for other clients. After you customize your statements and documents, the template is memorized; all you have to do is simply refresh it to reflect the current numbers.
ISW isn't just for CPAs who prepare financial reports; it is also beneficial for accountants or bookkeepers who customize statements or want to add value for clients. You can use it for internal management reports, and include charts and graphs as well. Clients really appreciate the added value, while you'll appreciate the way ISW enables you to do these tasks very efficiently.
The new enhancements in ISW 2011 include:
New Report Designer – Easily manipulate accounts with an easy, drag-and-drop method for customizing statements. You can easily:

move accounts to rollup/combine/separate accounts  (notice Cash & Cash Equivalents in the image below);
insert subtotals or other rows or columns (notice the column for a 3rd year on the Balance sheet and the rows for the Fixed Asset Section in the image below);
customize headers and footers for the statement and column headers;
format your statements to meet your needs; and
save as a template to use in the future or with other clients (notice the memorize in the image below – you can memorize one statement template or the group template).
Easier to save on a network drive – The new setup wizard allows you to specify the drive (network or local) to save templates, while the new Report Designer allows you to change the location if necessary.
Round-off errors – ISW now asks you to indicate which account to use for rounding errors on the balance sheet; this information flows through to the Statement of Cash Flow as well.
Continuous Page-numbering – You can indicate where to start the continuous page-numbering (i.e., you can skip page numbering on the cover letter and report and start on the Balance Sheet).
ISW Information Center – There are numerous videos and resources to help you with ISW. The software includes convenient links to Learn More, Watch a Guided Tour or Check for Updates.
You really owe it to yourself to try the improved ISW 2011 to see how it can help you in your practice. To learn more about it, I'm developing a new course for Intuit Academy, "Intuit Statement Writer 2011 – Your Financial Statement Solution" which should be available in mid- to late February.  The course includes detailed examples of how to prepare three different types of statements and reports:
Example 1: Financial Statements with Compilation Report
Example 2: Non Profit Organization
Example 3: Financial Statements and charts/graphs for Management
Click here to be notified as soon as the course is available. You can watch the web seminar, get free CPE if you need it and download the PDF course manual to use as a reference.
This post originally appeared on Intuit ProLine News Central Blog.