Increasing numbers of small businesses are choosing to use QuickBooks Online so accounting professionals should be familiar with it to support them. Join me for an intro and overview of QB Online and QBO Accountant. I'll share some navigation tips and tools for accounting professionals too. You'll see how easy it is to use QB Online and collaborate and support your clients with the data in the cloud. 
If you haven't looked at QuickBooks Online recently, you really should check it out.  New features are added regularly plus you'll learn about some misconceptions with QuickBooks Online (i.e. see how you CAN have multiple windows open at the same time).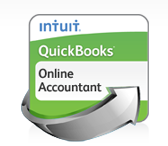 Prerequisite:  Familiarity with QuickBooks desktop *(i.e. Pro/Premier/Accountant/Enterprise) — I will highlight similarities and differences between the desktop and Online versions of QuickBooks. 
When: Thurs, May 30, 2013
1:00 – 2:00 pm (CDT) — overbooked so login early
Register here:https://www3.gotomeeting.com/register/263903006
3:00 – 4:00 pm (CDT) — NEW SESSION ADDED due to demand!  
Register here:  https://www3.gotomeeting.com/register/781144558
It will be recorded so you can watch it later.  If you can't attend live, go ahead and register so you'll get the email with the link to watch the recording (you will not prevent or take someone's seat to attend the live webinar).
See you there!