Congratulations to Intuit for being named #8 on Fortune's Best Companies to work for.  This is the 13th consecutive year Intuit has appeared on the list which is a great accomplishment.  Listen to Intuit's CEO Brad Smith's message to employees and learn 13 things you may not know about Intuit here.
Although I am not an Intuit employee, I'm proud to say that I've been a contractor for Intuit for the past seven years.  Plus, as an accounting professional I have used QuickBooks for nearly 20 years and I started teaching QuickBooks seminars in 1999.  I think Intuit is a great company to work with — both as a contractor and an accountant!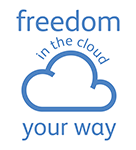 Intuit has kept me busy over the past year helping accountants and bookkeepers learn more about the new, updated (and awesome) QuickBooks Online and the Cloud ProAdvisor Program (free for accountants and bookkeepers).  I'm thrilled to have presented seminars across the US, Canada, London and this week I'm off to Australia!  It is great to see Intuit's commitment to accounting professionals with free training (often with CPE or CPD available) and programs to help us support our clients and grow our practice.  I'm thrilled to be part of it!
So, congratulations to Intuit and all the wonderful employees!  Thank you for the opportunity to train accounting professionals around the world!  It is an honor to represent such a GREAT company!