Uh oh — there's a problem!  We are approaching 1,000 people registered but we only have 500 seats for the live webinar. Thus, I will be updating the GotoWebinar subscription! What a GREAT problem to have but we want to make sure there's room for everyone to attend!  If you haven't registered yet, register now!
Join me and Hector Garcia for the inaugural webinar of the new, QB Power Hour webinar series. QB Power Hour is a free webinar series designed and presented by two accounting professionals (CPAs) and Top 100 Small Business Influencers: Michelle Long and Hector Garcia both of whom are very passionate about QuickBooks.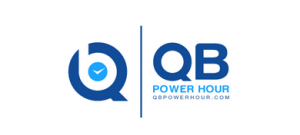 http://QBPowerHour.com
The QB Power Hour webinar series will be live every other Thursday at 12:00 pm EST. You can earn one hour of CPE free during the live webinars. Then, we will post the recording into our archives which you can go back and watch at any time (no CPE).
Register here: https://attendee.gotowebinar.com/register/1222827715699164929
Whether you are a QuickBooks Online user or a QuickBooks Desktop (Pro, Premier, Mac, Accountant, or Enterprise) user, you will enjoy the powerful tips and tricks we will be presenting every other week. Yes we will cover BOTH QB desktop and QB Online!
Don't miss it – register now! Only the first few webinars are listed here, but this is an ongoing webinar series.   Upcoming webinars in the QB Power Hour series.  You can register for the first 10 all at one time and you will get reminders prior to the webinar.  However, you will need to add susequent webinars to your calendar (they are not all automatically added).
10/02/2014 – Connecting & Collaborating – Powerful communication between QB user and Accountant (for desktop and QB Online). Plus, Intuit execs will join us to answer questions about the upcoming QB Connect conference (http://qbconnect.com), the new Advanced QB Online Certification and more.
10/16/2014 – Say No to Data Entry – Powerful tips to reduce data entry using bank feeds and data importing tools
PLUS MORE!
Register now & join us for the inaugural webinar!
Register here:  https://attendee.gotowebinar.com/register/1222827715699164929
To your success and I hope to 'see' you there!
Michelle