Plus, Long for Success Blog Named Community Choice Honoree too!
The Small Business Influencer Awards honor those who are influential to small businesses in North America, through the products, services, knowledge, information or support they provide to the small business market.
The Awards are designed to recognize the unsung heroes of small businesses – those who support and encourage entrepreneurs and small business owners, and help them achieve success and stay successful. The Champions are chosen based on a combination of voting by the small business community and a panel of judges steeped in the small business market, who considered the contributions of the nominees over the past year toward: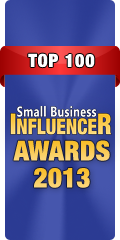 advocating on behalf of small businesses,
providing products or services that address the unique challenges faced by small businesses,
revolutionizing how small businesses do business or how they solve business challenges,
helping small businesses grow,
or otherwise impacting small businesses in a significant way.
Says Anita Campbell, CEO of Small Business Trends and one of the co-founders of the Awards, "Influencers are those who play crucial roles in the small business ecosystem, but who often are in the background. The Top 100 Champions have distinguished themselves in some way. We're delighted to see the wide range of Champions and Honorable Mentions this year – including non-profits, academia, journalists who've spent decades covering small business issues, corporate leaders whose names may not be widely recognized but who impact small businesses by influencing the offerings within their companies , vendors large and small that support small businesses, analysts who aid our understanding of this market, and entrepreneurs who have a strong voice among their small business peers."
Community Choice Honorees

In addition, both Michelle and Long for Success Blog were voted as Community Choice honorees in the 2013 Small Business Influencer Awards. They both achieved the designation as the result of receiving top votes in the popular voting segment of the Awards, from the small business community. Long for Success Blog was one of the top five in the category of News Outlets and Michelle Long was in the category of Experts.
About the Small Business Influencer Awards
The Small Business Influencer Awards, now in their third year, enable the small business community to nominate and show their support for those that influence and support them. The Awards have an open nomination period, followed by community voting, and then a judging period by a group of industry-knowledgeable judges.
The Small Business Influencer Awards initiative is produced by Small Business Trends, an award-winning online publication, serving over 6,000,000 small business owners, stakeholders and entrepreneurs annually, and SmallBizTechnology.com, a media company that produces online content and live events educating small and mid-sized companies on how to strategically use technology as a tool to grow their businesses. The Awards can be found on the Web at: SMBInfluencers.com.
P.S.  I appreciate everyone who supported me and helped with the voting!  Thank you so much!