Although hundreds of people joined me for the live webinars, there were people unable to attend since the webinars were over-capacity.  I apologize for the inconvenience.  As promised, I recorded them and the links to the recordings are below.  
Intro to QuickBooks Online / QuickBooks Online Accountant
Increasing numbers of small businesses are choosing to use QuickBooks Online so accounting professionals should be familiar with it to support them. Join me for an intro and overview of QuickBooks Online and QBO Accountant. I'll share some navigation tips and tools for accounting professionals too. You'll see how easy it is to use QB Online and collaborate and support your clients with the data in the cloud.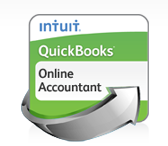 See some key differences between QuickBooks Pro / Premier / Enterprise (QuickBooks Desktop products) vs. QuickBooks Online. Learn about cool features in QBO that are not in the desktop versions of QuickBooks.
Watch the recording here:  http://youtu.be/em1CwDATM8w
Using QuickBooks Client Data Review – Save Time Cleaning up Files
Client Data Review allows you to find and fix problems in QuickBooks files quickly and efficiently with these tools:
Troubleshoot Prior Account Balances

Reclassify Transactions (and assign a class)

Review List Changes — Chart of Accounts, Items, Fixed Asset Items and Payroll Items

Fix Unapplied Customer Payments and Credits (clean up open invoices)

Clear Up Undeposited Funds account

Write off Invoices

Fix Unapplied Vendor Payments and Credits  

Fix Incorrectly Recorded Sales Tax

Compare Balance Sheet and Inventory Valuation

Troubleshoot Inventory

Find Incorrectly Paid Payroll Liabilities
Plus during the webinar we discussed:
QuickBooks file compatibility between QB Pro / Premier 

QuickBooks for Windows (PC) vs. QuickBooks for Mac and QuickBooks Online (QBO)

Using an Accountant's Copy

and more
This webinar was intended for accountants, CPAs, Bookkeepers, QuickBooks ProAdvisors or tax professionals.
Watch the recording here:  http://youtu.be/CwSRt8DvhmQ
I hope the webinars are helpful for you!