Congratulations on surviving tax season (at least the first round)!  Now it's time to focus on growing your practice.  Rapid changes in technology continue to significantly affect the accounting industry.  If you are not keeping up, then you are falling behind — perhaps faster than ever!
Data entry is being eliminated (or at least minimized) and replaced with data management and analysis.  Many accountants and bookkeepers must adapt to survive.  However, the changes also represent a great opportunity for us to provide more valuable services for clients and enhance our role as trusted advisor.
In nearly every business, there is at least one area of inefficiency or procedures that need improvement.  It may be something that is still a manual process, doesn't integrate, requires double entry or other problems.  Usually, there is an app to eliminate the pain points and inefficiencies.  This is a great opportunity to improve the client's processes and profitability and grow our practice too.  It's a win for the clients and a win for us!
First,  start with a needs assessment to help identify the pain points and problem areas of the business (either your own practice or the client's business).   Next we identify, evaluate and implement apps to help streamline their operations and workflows — APPify the Processes with apps that integrate with QuickBooks and QuickBooks Online.  This is a great way to grow your practice with additional consulting services and partner programs to provide additional revenue streams for your practice.    These steps will be discussed in more detail in the first webinar of the series (sponsored by Intuit).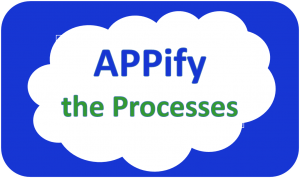 Join me for the APPify the Processes webinar series — designed specifically for accounting professionals to help you grow your practice.  Each webinar will provide practical and valuable information including:
Key benefits of the app – problems it solves

Who is it right for — which clients or industries
Quick demo of how it works — key features and integration
Comments from a peer — hear from an accountant or bookkeeper who has implemented it
Partner program
Register now for the FREE webinars.  If you cannot attend during the scheduled time,  register so you get the link for the recording emailed to you.   If you attend the live webinars, you may win free prizes like an autographed copy of my books or other great prizes!
All webinars start at 1:00 pm CDT and last one hour.   Register now!
Prizes
For each webinar, there will be some prizes given away including:
Autographed copy of my QuickBooks Practice Set (or QB Online Practice Set) (Priceless!)
QuickBooks 2013 (either QB Accountant or QB Premier) (MSRP $399 or $499)
Other prizes the sponsors may contribute
GRAND PRIZE — attend all 6 webinars live and you could win QB Enterprise 13.0 (MSRP $3,000)
Winners will be randomly selected from attendees of the live webinar.
Register for Each Webinar Below
May 1  ScanWriter  offers an unprecedented Data Entry Automation solution that enters 100's of transactions into QuickBooks or Excel from your bank and credit card statements, bills, sales orders, and more!
Watch the recording of the  ScanWriter webinar here and download the handout here APPify ScanWriter.
May 6   Intuit — Learn how to APPify the Processes, conduct a needs assessment, identify, evaluate, test and implement apps.  We'll discuss Intuit apps, the app center and more.
Watch the recording of the Intuit webinar here and download the handout here:  Intuit Apps.com – APPify the Processes.
May 8  Bill.com — Grow Your Practice with Bill Pay: Learn how to easily automate your client's payables and receivables online. Route bills for approval, store and share documents, send invoices via email or US mail, pay and get paid, charge customers via ACH or credit card. Automatically sync with QuickBooks; Desktop, Hosted or Online. 
Register for Bill.com webinar here.
May 14  Concur — Automatically create expense reports from credit card charges and TripIt travel itineraries. Seamlessly sync your expenses with QuickBooks. Capture receipts, reimburse employees and get on with business. Do it all online, or go mobile!
Register for Concur webinar here.
May 20  TSheets Time Tracking — 5-star rated on Intuit's Apps.com, TSheets is the time tracking solution that's a real power player for payroll. Mobile, easy to use and works with most accounting solutions. Eliminate manual & duplicate time entry for super fast payroll & invoicing.
Register for TSheets Time Tracking webinar here.
May 29  Avalara — Thousands of sales tax jurisdictions and taxability rules. Tax-exempt customers. Tax filing deadlines. Avalara AvaTax streamlines it all – and works inside your billing system.
Register for Avalara webinar here.
Registernow for all the APPify the Processes and Grow your Practice!
Plus, More Great Content with Fresh Ideas to Grow Your Practice
Join me for a high-content, award winning accounting conference with a price tag you won't believe!  The Ultimate Accounting vCon is a 2 day virtual conference with practical, grow-your-business advice plus great how-to sessions on all your favorite software and some you may not know about yet.  Details and register here.   Discounted pricing through April. 20.